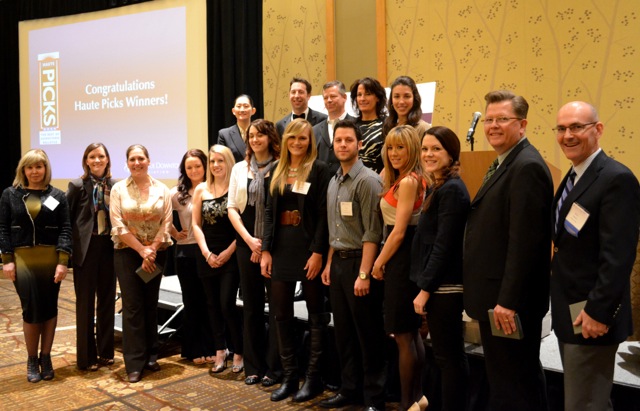 The Bellevue Downtown Association has announced the winners of the 10th annual Haute Picks awards.
The public submitted online votes for 20 categories in this "best of downtown Bellevue" contest from February through April 2012. The awards honor local businesses for helping make the community a great place to live, work, and play, according to a press statement.
The winners are known for offering superior customer service, products, and experiences.
The Haute Picks winners are:
Best Casual Business Meeting Spot: 520 Bar & Grill (6th-year winner), 10146 Main Street, 520barandgrill.com
Runners-up: Bellevue Club and Starbucks Coffee Company
Best Place for Sushi: FLO Japanese Restaurant (3rd-year winner), 1188 106th Avenue NE, florestaurant.com
Runners-up: Blue C Sushi and Sushi Maru
Best Cocktail (Drink and Place): "Gaucho Cosmopolitan" at El Gaucho, 450 108th Avenue NE, elgaucho.com
Runners-up: "Appletini" at Parlor Collection and "Medina Martini" at 520 Bar & Grill
Best Power Lunch: El Gaucho (3rd-year winner), 450 108th Avenue NE, elgaucho.com
Runners-up: Daniel's Broiler and Seastar Restaurant and Raw Bar
Best Coffee House: Starbucks Coffee Company (7th-year winner), 10 Downtown Bellevue Locations, starbucks.com
Runners-up: Café Cesura, Top Pot Doughnuts and Vovito Caffè & Gelato
Best Retail Boutique: Blue Luna, 10619B NE 8th Street, bluelunafashion.com
Runners-up: Aritzia and La Ree Boutique
Best Happy Hour: Pearl Bar & Dining (3rd-year winner), Lincoln Square – 700 Bellevue Way NE, pearlbellevue.com
Runners-up: El Gaucho and Palomino
Best Romantic Dinner: Daniel's Broiler (3rd-year winner), Bellevue Place – 10500 NE 8th Street, schwartzbros.com
Runners-up: Bis On Main, El Gaucho and John Howie Steak
Best Lunch Under $10: Chipotle Mexican Grill, 10503 NE 4th Street, chipotle.com
Runners-up: Jimmy John's Gourmet Sandwiches and MOD Pizza
Best Seafood Restaurant: Seastar Restaurant and Raw Bar (6th-year winner), 205 108th Avenue NE, seastarrestaurant.com
Runners-up: Blue C Sushi and McCormick & Schmick's
Best Place for a First Date: Parlor Collection (6th-year winner), Lincoln Square – 700 Bellevue Way NE, parlorcollection.com
Runners-up: 520 Bar & Grill and Black Bottle Postern
Best Steakhouse: John Howie Steak (3rd-year winner), The Bravern – 11111 NE 8th Street, johnhowiesteak.com
Runners-up: Daniel's Broiler, El Gaucho and Ruth's Chris Steak House
Best Place for a Haircut: 7 Salon, 101 Bellevue Square, 7salon.com
Runners-up: Rudy's Barbershop and Salon Tewl
Best Sweet Tooth Fix: Trophy Cupcakes (3rd-year winner), The Bravern – 700 110th Avenue NE, trophycupcakes.com
Runners-up: Belle Pastry, Cupcake Royale and Oh! Chocolate
Best Place for a Mani/Pedi: Gene Juarez Salons & Spas (4th-year winner), Bellevue Galleria – 550 106th Avenue NE, genejuarez.com
Runners-up: Casabella Spa & Nails, Elizabeth Arden Red Door Spa and Happy Nails and Spa
Best Uniquely Downtown Bellevue Experience: "Snowflake Lane" (6th-year winner), Bellevue Way NE & NE 8th Street, bellevuecollection.com
Runners-up: Bellevue Arts Museum and Bellevue Downtown Park
Best Place for a Massage: Herban Therapies Boutique Day Spa, 11000 NE 10th Street, herbantherapies.com
Runners-up: Massage Center of Bellevue, Truce Spa and Yuan Spa
Best Wine List: Purple Café and Wine Bar (3rd-year winner), Bellevue Towers – 430 106th Avenue NE, thepurplecafe.com
Runners-up: Daniel's Broiler and El Gaucho
Best Place to See and Be Seen: Munchbar, 505 Bellevue Square, munchgroup.com/Bellevue
Runners-up: Blue Martini Lounge, El Gaucho and Parlor Collection
Best Workout Spot: Bellevue Club (4th-year winner), 11200 SE 6th Street, bellevueclub.com
Runners-up: David Barton Gym and Elite Fitness Training