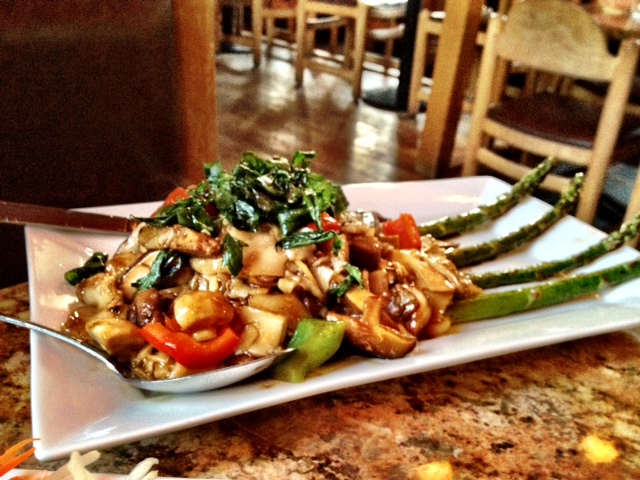 It has only been a few weeks since the Greek restaurant Orexi went out of business, but the landlord has wasted no time replacing the tenant.  Taking Orexi's place is Araya's Vegetarian Place, a Thai Vegan restaurant. It is their 2nd location in the area; their original location is in the University District on 45th Ave and has been open for 26 years.
Araya's has been looking to expand in Bellevue for over a year. The reason they wanted to expand to Bellevue was due to many of their Seattle customers living on the Eastside. This is the 1st strictly vegan restaurant in Downtown Bellevue. To celebrate their grand opening, for the entire month of May they are offering a 10% off to customers.
The menu features many dishes with noodles, rice, and curry.  Many of these dishes often include some of their popular ingredients such as tofu, banana, pineapple, mushrooms, and more. One of their most popular items on the menu is the 'Drunken Mushroom' that features wide rice noodles stir-fried in garlic and chili, mixed in with a variety of flavorful mushrooms. The dish is famous because it was featured on Food Network!
During a trip to the restaurant this week, the staff was very attentive and friendly.
You can view their menu online at their website.
Araya's Vegetarian Place
http://arayasplace.com/
31 Bellevue Way NE
Bellevue WA 98004
425-453-1366