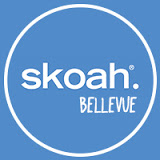 Skoah, a personal skin care company based in Vancouver, Canada, recently opened a new facial spa in downtown Bellevue.
Skoah offers a variety of facial services, including massages and deep cleansing treatments. Personal trainers help customers create at-home skin care routines.
The spa is located at 217 Bellevue Way NE, in the Park Row complex across from Safeway. Skoah plans to open two additional locations in Seattle this month.
To make an appointment at Skoah in Bellevue, call (425)451-4934.