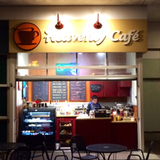 Heavenly Café will celebrate its grand opening at Bellevue Square in downtown Bellevue with a ribbon cutting ceremony at 4 p.m. Thursday, Feb. 13.
Heavenly Café offers tiramisu, espresso, and specialty lunches and snacks at its new store, which is located in the Fountain Court next to the Macy's entrance to Bellevue Square. The menu features waffles-on-a-stick with Heavenly Whipped Cream made with French Brandy, mascarpone cheese, and heavy whipped cream.
The café also serves hot dogs, chili dogs, and waffle dogs, as well as Panini sandwiches, quesadillas, and spanakopita.  The location previously housed a hot dog restaurant.
Heavenly Café will continue to offer its tasty tiramisu online in flavors such as chocolate, raspberry, and dark chocolate caramel.