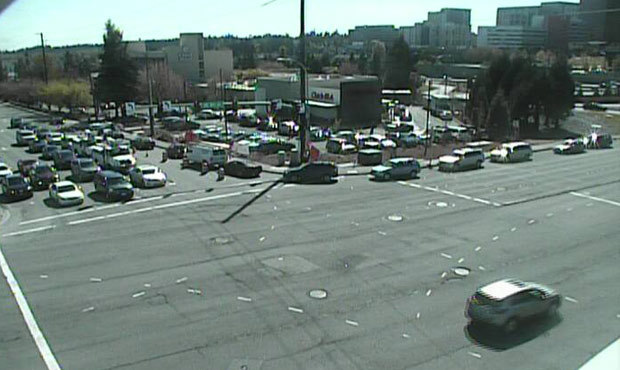 Traffic around the new Chick-fil-A Restaurant has been so heavy that Bellevue announced new traffic controls for the Chick-fil-A restaurant on 116th Avenue Northeast and Northeast Eighth Street to assure safety for motorists and pedestrians.
Chick-fil-A opened its doors on April 9, 2015, and since then backups have occurred daily on eastbound Northeast Eighth Street and southbound 116th Avenue Northeast. Although initial traffic has ebbed, heavy traffic has still plagued the fifth busiest intersection in Bellevue.
Beginning today, approximately 10 cars will be allowed into the restaurant parking lot simultaneously. Once the lot is full, an off-duty police officer will close the driveway into the restaurant and flag motorists on. Once those cars have exited, the next ten cars will be allowed to enter. Redirected drivers can continue moving south on 116th Avenue Northeast, and can circle the block back to Northeast Eighth Street. The restaurant and city officials are hopeful this approach will improve traffic conditions and safety in the area.
David Berg, Transportation Director, noted that the city and the restaurant have been working together to solve the problem, "We have found Chick-fil-A responsive in helping determine solutions to this situation." Together both organizations will monitor the situation and make adjustments as needed. The city urges drivers to use alternate routes when possible.
Additionally, the city and Chick-fil-A are working together to supplement parking options nearby. And to combat increased trash dropped in the area, Chick-fil-A employees are dispatched at least twice daily, to pick up after errant customers.