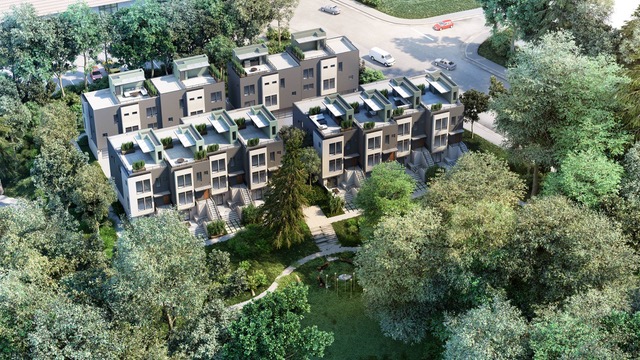 Park 12, a new townhome community near the Spring District neighborhood is currently available for pre-sale. The address of the project is 13601 Bel-Red Road. The project that will be developed by GIS International Group has 12 homes that will be ready for occupancy in 2017. The three-story homes have three bedrooms and are just over 2,000 square feet. The prices for the units start in the $800,000s. All of the units feature a private rooftop deck, ground floor patio, and a two-car garage.
"Today's buyers are looking for homes that cater to outdoor living and entertainment, so we designed our rooftops to accommodate hot tubs, kitchens and other leisure spaces," said Eugene Gershman, chief executive officer of GIS International. "What's more, the private park is a one-of-a-kind amenity that sets Park 12 apart from other new construction options in Bellevue and the Eastside."
As apartment rents and condo prices continue to go up in downtown Bellevue the Spring District will likely see increased interest as apartments, townhomes, and condos as they come to completion.
For more information on the project visit the Park 12 website.