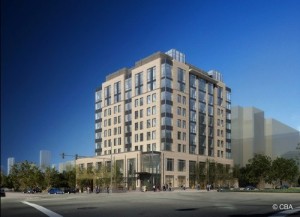 According to a real estate listing, the property next to Bellevue Downtown Park where the proposed "Bellevue Park Hotel" was planned is now up for sale with an asking price of $5.75 million.  In February 2011 the luxury hotel received design approval and had filed for permission to demolish the 2-story building that is currently on the site.
This is not the first time this project has experienced delays. The Abu Dhabi based developer, Hydra Developments had originally planned the luxury condominium project, Essex on the Park. The announcement that the project would transition to a hotel was made in March 2009.
The hotel project is currently planned as 108-guestrooms, 5,000 square feet of banquet/ballroom space, and 90-seat chef-driven restaurant with a bar.