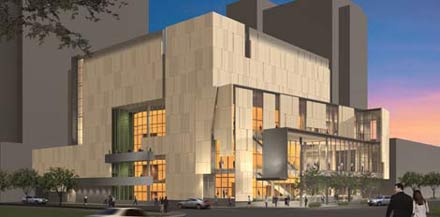 The Bellevue City Council recently approved a memorandum of understanding with the Performing Arts Center Eastside to bolster public and private support of the proposed Tateuchi Center in downtown Bellevue.
The Tateuchi Center, a 2,000-seat theatre, would be located at the corner of 106th Avenue Northeast and Northeast 10th Street.
City officials will work with the Performing Arts Center Eastside to raise public awareness of the venue and to explore legal issues and funding options, according to the memorandum. PACE will focus on renewing its fundraising campaign and reconstituting its board of directors, which has contributed $600,000 toward the Tateuchi Center.
The city has already contributed $2 million toward the new venue and the Tateuchi Foundation pledged $25 million. Last week the city council allocated $63,200 toward legal, financial, and public engagement tasks associated with the memorandum.
The Performing Arts Center Eastside has raised $63 million in pledges toward its $160 million fundraising goal.