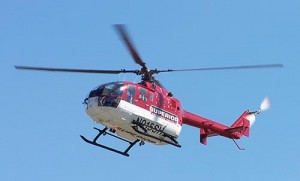 Bellevue City Council members are expected to finalize a decision regarding helicopter landings on top of the 21-story Bank of America Building on Northeast 8th Street at an upcoming meeting.
Kemper Development Company has applied for a conditional-use permit that will allow up to 5 helicopter landings and takeoffs each week, with up to 4 taking place at 9am-6pm Monday-Friday, and 1 at 10am-5pm Saturday. The flight path will be limited to freeways and Northeast 8th Street, according to a statement from the City of Bellevue.
At Monday's City Council meeting, council members voiced their concerns about helicopter noise and the impact on downtown residents. The council wants to ensure that the helicopters follow the designated flight path and that reviews are conducted on a regular basis to make sure the permit conditions are being followed, according to the statement.
City staff will incorporate the council's concerns into an ordinance that will approve Kemper Development's application and also deny an appeal by another downtown developer, John Su, and a group of downtown residents. The council is expected to finalize the decision on May 16.