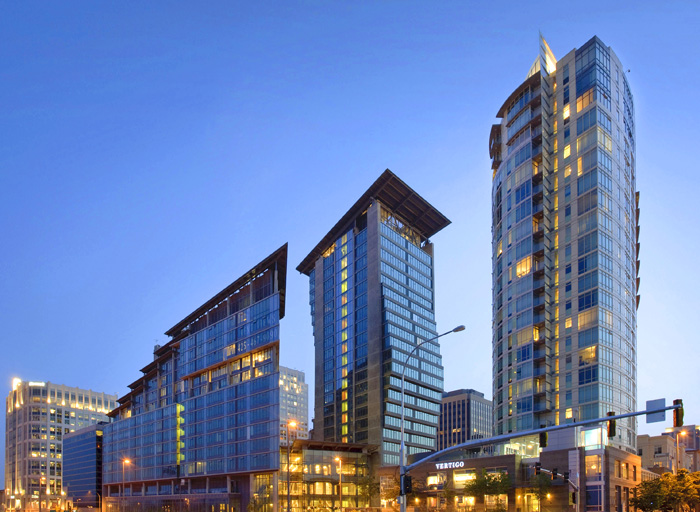 Bellevue's skyline has changed dramatically over a short few years, with several buildings rising up like glass sculptures, reshaping the city view. A series of buildings in the Ashwood Neighborhood, at the commuter gateway into Downtown Bellevue, stand apart from typical living spaces. The 3 uniquely shaped structures that make up the Elements community of apartments, when viewed from a distance at the right angle, create an artful upwards arc that reaches towards the sky. The attention to its exterior design flows into the interiors of these homes and its residential amenities, shaping the way one views the possibilities of modern living.
The buildings that make up Elements are the high-rise 989 Elements (166 units) and 958 Elements towers (124 units), and the triangular-tiered 909 Elements (274 units) mid-rise. The 2 newer towers are better known as Elements Too, which was completed at the end of 2009. Retail space in the main atrium has the promise of a French bakery coming in, and similar creature-comfort retailers are on the target list for becoming integrated with this high-design community. In total there is over 48,000 square-feet of available retail space. Along with its avant-garde look, Elements has the distinction of being one of the few all-rental luxury living spaces in Downtown Bellevue, with monthly rates ranging from the high $800's for studios into the $4,000's for penthouse units. Separate structures, but part of a single community, Elements is a triptych of modern living that combines an urbane lifestyle, specialty amenities, and artfully designed spaces. Like stepping into a futuristic view of a better tomorrow, the architecture of the buildings and apartments are minimalist clean lines, surrounded by glass and light. Residential units are all networked – residents able to be notified via email that a package has arrived, if flowers have been delivered, and even that dry cleaning is ready. The proximity to the heart of Downtown Bellevue and attention to high-tech details seems to have caught on with Eastsiders, as Elements also has the distinction of nearly being at full occupancy (currently about 80% occupied).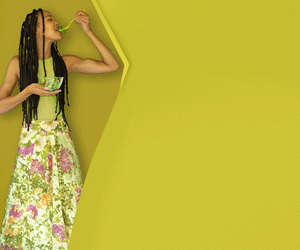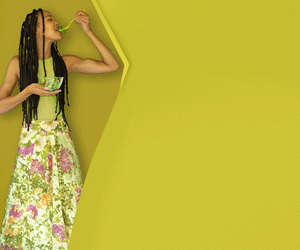 Touring through one of the extraordinary triangle-corner apartments in the newer Elements Too units, it's a portrait of contemporary living. Flanked by a full wall of windows, the city becomes a kinetic mural of activity, a living work of art. The space is long and narrow, coming to a striking corner point where the windows meet to create a severe ship's bow shape that overlooks the streets below. It is a feeling that one's home is almost floating, with the conflicting sensation of being both exposed and sheltered at the same time.
The architectural elements are balanced at all times by the integration of natural materials like wood and stone, paired with muted earthy tones, making the spaces feel welcoming. Touches of granite and bamboo in the apartments keep them from feeling standardized or factory-made. An equally warm lifestyle design emerges when touring the communal areas for the Elements residents. The large shared lounge area has a long white sofa fit for sharing with several friends, while sitting in front of a wide and cozy gas fireplace. There is an outdoor patio for summer entertaining and a full-sized commercial kitchen, all used by residents as well as for regular community events hosted by Elements. They have a full-sized gym and a separate Pilates and yoga studio, as well as a lap pool. After a workout, people can gather in the private theater with several rows of plush armchairs to watch a movie. In most cases, where people don't even know their neighbors, Elements actively encourages its residents to gather. Behind its state-of-the-art look, there is an old-fashioned understanding of developing a sense of community among neighbors. Much like the buildings' namesake, it's these elements that are what makes living spaces into homes.
Elements Too
989 111th and 112th Avenue, NE
866.792.2045
[nggallery id=34]