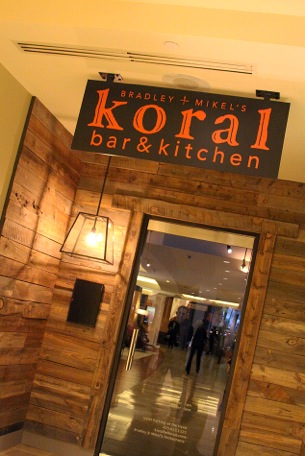 Koral Bar & Kitchen is the newest restaurant to premiere in the heart of Downtown Bellevue, and it's looking to make good on putting the "comfort" into comfort foods. Located in the Hyatt Regency Bellevue, Koral is described as a "New American Kitchen." The dining area is scattered with small tables and instead of typical booths, leather sofas are backed against the wall for small gatherings. Long, heavy tables made with reclaimed wood are set up for larger parties. Lit candles cast a flickering glow, highlighting the warmth and grain of the old wood. The ceiling is a collection of vintage-style lighting, adding to Koral's overall mood, which is to provide a comfortable, lived-in feeling for patrons. For all the times when Bellevue dresses to the nines, sometimes it's okay to kick back and relax, which is what the duo behind Koral, Bradley Dickinson and Mikel Rogers, are aiming for.
Koral's owners are particularly in-tune to the needs of the Eastside crowds – Dickinson and Rogers are behind Pearl Bar & Dining, which has been a popular restaurant and happy hour hangout since opening in 2008. Speaking with Bradley Dickinson during the preview night, he points out the experience Koral will bring to people just wanting a place to relax at, after a long day. "No white tablecloths," he compares between Pearl, which has more of an urban chic mood. He describes Koral as the place for people to gather their friends around a table, drink wine, eat their favorite foods and just talk the night away. The location in the Hyatt gives Koral the unique opportunity to become the go-to spot after the many events and conferences that occur daily in the hotel's meeting halls. The restaurant's cozy atmosphere masks a sizeable restaurant space, including private dining areas that are able to seat groups of 10 to 30 people.
Menu items include creamy artichoke dip on crostini, braised oxtail "sliders" with the slow-cooked tender meat served between a Chinese-style bun, and a house made pub cheese, a spreadable cheddar and horseradish dip served with pretzel sticks. The menu focuses more on small plates and appetizers, items meant to be shared and sampled with a group, but there are larger entrée-sized meals as well. The dishes focus on classic meat-and-potatoes fare, like a bleu cheese meatloaf, lamb loin chops in a lemon rosemary rub, and fresh gnocchi with braised oxtail. Bradley Dickinson points out one of the items they offer, roasted bones served with crostini to slather the butter-like, rich marrow on. If there's any room for dessert, along with a number of rich, delectable options like a sticky toffee pudding covered in caramel, they offer the simplest, but most comforting of items: milk and cookies. The menu continues to grow and evolve — they anticipate starting a brunch service later in the month, during weekends from 9am to 2pm.
Koral is now open daily, 4-10pm Monday through Saturday, 4-9pm on Sundays, on the lobby floor of the Hyatt Regency Bellevue.
Koral Bar & Kitchen, 900 Bellevue Way NE, Suite 100, 425-623-1125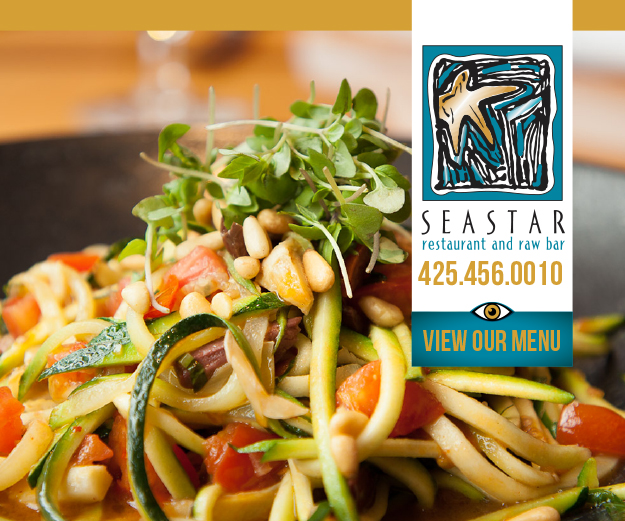 [nggallery id=71]