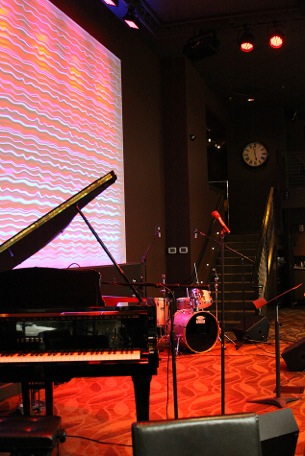 "Without the space between the notes, there is no music." It's a quote from motivational author Wayne Dyer, and announced regularly before nightly performances at Bake's Place by owner Craig Baker, who's glad to take the stage to introduce performers and meet the crowd. Craig describes the act of enjoying live music like the art of listening. It's when you settle back in your seat, ease into the mood of the theater and shut off distractions like phones. It's what Craig calls turning the outside world off, letting the music take over, and Bake's Place is ready to take Bellevue to a new level of entertainment.
The downtown Bellevue location for Bake's Place is brand-new, but it's had a notable history. The original Bake's Place was in the bed and breakfast house Craig and Laura Baker used to run, a hidden gem for rare performances by musicians that Craig had gotten to know through his fourteen years in the entertainment business. The Bakers expanded to a full club in Issaquah, becoming an award-winning jazz venue, gaining attention from performers and music fans alike. The move to Bellevue was a natural step in its evolution, turning Bake's Place into a true downtown experience. Located on the first floor of an office high-rise, guests enter through a hallway lined with jazz posters and are met with a stunning open view of a lounge and restaurant set before a dazzling stage with a grand piano to one side, and a dramatic backdrop of floor to ceiling windows. There's mezzanine seating that sits above everything, for a bird's eye view of the whole restaurant and stage, as well as a full outdoor patio area. It feels like a slice of Classic Hollywood, with the lively stage and sweeping atmosphere, but the space comfortably fits 100 guests. "There's no bad seat in the house," Craig describes the large, yet intimate club. It's unlike large arena stages where he points out, "You can't make any connection to the people." This is why Bake's Place has maintained a reputation as a jewel box stage for music enthusiasts and performers alike. Whether being a showcase for the Bellevue Jazz Festival or the casual weeknight performances by local talents, the music is the star. And don't consider Bake's Place only a jazz club. "I came from rock n' roll," Craig says of his lifelong love of music. On a weekly basis, they have eclectic lineups of blues, swing, funk and even Beatles cover bands.
The biggest departure from their old club is the full kitchen, able to serve lunch and dinner, helmed by one of Bellevue's best, Executive Chef Chris Peterson. With a background including Bellevue classic, Bis on Main and Kirkland's Milagro Cantina, Chef Peterson 's skill with world cuisines match the diversity of the bands on stage. The full restaurant experience is what qualifies Bake's Place as a classic supper club, and the menu promises a level of quality that makes Bake's Place as much of a showcase restaurant as it is a music venue. Ingredients sourced fresh and locally where available, the current menu is full of springtime offerings like salmon in a curried tomato sauce, minted fava beans, or a Chinese five spice duck, and Peterson is already thinking of summer items that will be served both inside and outdoors on their large patio space. In line with Bellevue's love of happy hours, Bake's Place has what they call their Sound Check, a happy hour from 3-5:30pm, with small plate variations on their dinner menu and the opportunity to listen in on a musician's sound check, if they're preparing for a set.
When making plans to visit Bake's Place, it's fine to not have plans, they welcome people coming in to catch a performance on the weeknight, but reservations are recommended on the weekends to ensure a seat. They're open every day except Mondays; dinner service starts at 5:30, where people can just have a meal, or they can choose to stay for the show, which starts at 8pm. It's unique to have a full course dinner and a concert in a single place, no need to rush to different locations, and one can be fully immersed in the art of listening. The special care that goes into each performance night is what keeps the heart of Bake's Place the same, as Craig Baker says, "You enter strangers, but you leave as friends."
Bake's Place
http://bakesplacebellevue.com/
155 108th Ave NE
(425) 454-2776
[nggallery id=77]