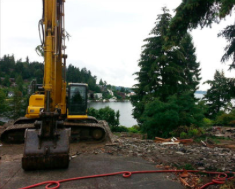 The City of Bellevue invites downtown residents to give feedback on design options for Meydenbauer Bay Park, a new waterfront destination connecting Meydenbauer Bay to Downtown Park, during an open house on Wednesday, Dec. 3.
The open house will run from 5:30-7:30 p.m. at Bellevue City Hall Concourse, 450 110th Ave. NE. Local residents are invited to view preliminary design options, ask questions, and provide feedback.
The vision for Meydenbauer Bay Park was first realized in 1987, but planning didn't begin until early 2007, according to a press statement. The city council adopted the Meydenbauer Bay Park and Land Use Plan in December 2010.
The plan includes the following:
Multiple and varied views to and from the water
Pedestrian promenade and pier
New activity building
Renovation of the historic Whaling Building
Beach and shoreline restoration
Stream daylighting
Playground and picnic areas
Multiple opportunities for access to and enjoyment of the water
Improvements to street frontage to strengthen connections to the lake
Connections to neighboring parks
Readers, what do you think are the most important features for the new park? Sound off in the comments section below.