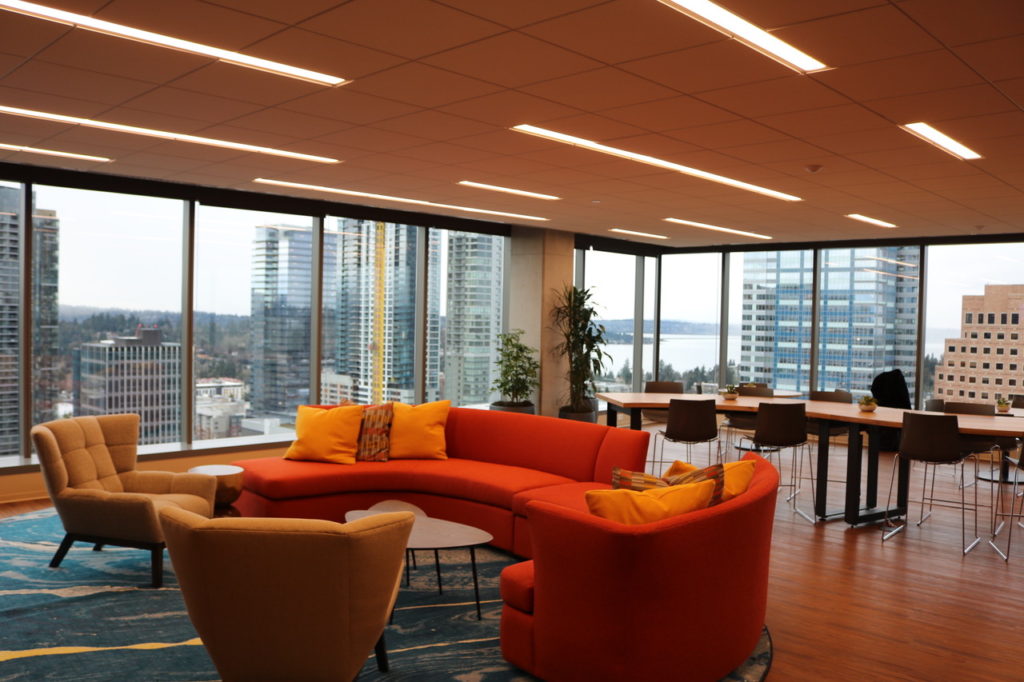 Salesforce, the #1 CRM company in the world hosted an event on Wednesday to celebrate their new office opening in Bellevue inviting City of Bellevue dignitaries, such as Bellevue Mayor John Stokes.
It was announced that Salesforce's office will focus on engineering and innovation within the Bellevue office. In the coming months, the company plans to double the workforce to 500 people. Previously the company had locations in Seattle, Bellevue and in co-working spaces. This new office will bring these employees together in one location. According to Jim Walsh, SVP of Infrastructure Engineering the company has the option to lease additional floors at Nine Two Nine Office Tower if they continue to grow and need more room.
When you walk through the spaces you'll feel like you're in an urban garden. The office is decorated with light colored woods and greens. Many of the conference rooms and "bullpen" associate working spaces intentionally appear as if they are in greenery or grass because of the coloring of the carpet. Of the four floors, there's a dedicated mindfulness area on each floor where associates are encouraged to ditch their devices and have quiet time.
The office has large social lounges that are intended to inspire creativity and collaboration. These lounges have beautiful mountain, water and city views. One amenity that is already an associate favorite is the dedicated espresso machine with a barista on-call to take your order. This month they are serving Stumptown coffee.
The Salesforce team in Bellevue works on innovations including artificial intelligence with Salesforce Einstein, productivity with Salesforce Quip, mobility with Salesforce1, app development with Salesforce Lightening and connected devices with the loT Cloud.
"We welcome Salesforce to our vibrant downtown," said Mayor John Stokes. "Salesforce's expansion to Bellevue demonstrates that we are rapidly becoming a distinguished hub for technology and innovation in the Pacific Northwest with some of technology industry's most prominent leaders and companies calling Bellevue home."