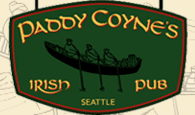 Paddy Coyne's Irish Pub opened Friday at Lincoln Square, appropriately days before St. Patrick's Day.  This will be the third Paddy Coyne's adding to their Seattle and Tacoma locations.
The intimate restaurant squeezes in a bar, two plasma screens, several booths, and tables where Koot's Green Tea previously occupied on the first floor parallel to NE 8th St.
In addition to the dinner and lunch menu, Paddy's will offer a breakfast menu everyday.  Also everyday from 4pm-6pm, and 10pm-12am happy hour will be offered with discounts on food.