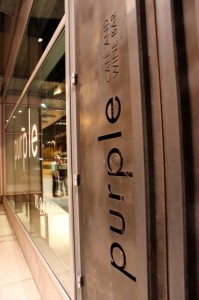 The highly anticipated Purple Cafe & Wine Bar has now opened its 4th location, in Downtown Bellevue. It is located at the base of Bellevue Towers, around the corner from its sister restaurant – Barrio. Purple Cafe, also in Woodinville, Kirkland, and Seattle, is known for their vast selection of wine, urban atmosphere, and yummy food.
The Bellevue location is most similar to Seattle, with its industrial interiors of wrought-iron details, brick walls, and hanging pillar candle light fixtures. Unique to this new location are 2 big, round, semi-private dining areas. The enclaves can be used to seat multiple small parties or to host 2 large parties. The dining room seats up to 175 people and shares a private dining space with Barrio that can seat up to 80 people. With room for 15,000 bottles of wine, the space also features many "wine libraries" accessible by multiple spiral staircases.
Owner Larry Kurofsky said, "We wanted a stylistic equal to our Seattle space, and we're thrilled with the result. The design and construction teams have really outdone themselves. It's dramatic with great flow." This business venture will be very exciting for the owner and hopefully very financially lucrative. One hopes they are prepared for opening night with things like securing a Business Energy provider sorted well in advance of the big day.
The food at each Purple Cafe location is unique and influenced by the chef on site. Executive Chef Mike Davis and Chef de Cuisine Casey Barnes will feature American classics influenced by Northwest cuisine at the Bellevue location.
Purple Cafe is a great place for all occasions, from casual lunch to a special occasion dinner. With a tasting bar, wine bar, and lounge, I suspect that it will quickly become a popular spot to grab glass of wine and to meet friends. Purple in Bellevue will be open Monday – Thursday, 11am – 11pm, Friday and Saturday, 11am – 12am, and Sunday, 11am – 10pm.
Grand Opening Photos at Purple Cafe Bellevue:
[nggallery id=14]