In its 3rd year, the 2011 Summer Outdoor Movies in the Park at Bellevue Downtown Park will start on Tuesday, July 5th. The movie series, which is presented by Bellevue Parks & Community Services and sponsored by Intelius, is free to the public. The movies are shown every Tuesday from July 5th – August 23rd and start at dusk.
The outdoor movie series, which lasts for 8 weeks, will feature a different movie and local non-profit to benefit each week.
A new offering this year is the "VIP Movie Experience." The VIP Experience allows 10 movie watchers the ability to enjoy the movie from the comfort of oversized inflatable furniture, they're served popcorn, pizza, cupcakes, and beverages. To inquire about these seats email [email protected]
If it rains, the movies will be hosted at SBCC (14509 SE Newport Way, Bellevue, WA 98006).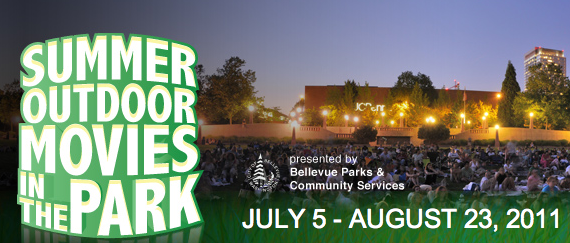 July 05
Yogi Bear
(PG) – 80min
Non profit benefit: Bellevue Boys & Girls Clubs of Bellevue
Highly needed items:
– Backpacks
– School Supplies
July 12
Despicable Me
(PG) – 95min
Non profit benefit: The SW Sophia Way
Highly needed items:
– Grocery Gift Cards
– Movie Tickets
July 19
Letters to Juliet
(PG) – 95min
Non profit benefit: Eastside Domestic Violence Program
Highly needed items:
– Bath Tissue
– Cleaning Products
July 26
Megamind
(PG) – 95min
Non profit benefit: Treehouse
Highly needed items:
– Hooded Sweatshirts
– Skinny Jeans
August 02
How to Train Your Dragon
(PG) – 98min
Non profit benefit: Highland Community Center
Highly needed items:
– Paint brushes
– Acrylic paint (all colors)
August 09
Shrek Forever After
(PG) – 93min
Non profit benefit: Kindering
Highly needed items:
– Play- Doh
– Medium or Large Stickers
August 16
The Karate Kid
(PG) – 140min
Non profit benefit: Youth Care
Highly needed items:
– Backpacks
– Flash (USB) Drives
August 23
Gnomeo & Juliet
(G) – 84min
Non profit benefit: Bellevue Lifespring
Highly needed items:
– Jelly/Jam
– Men's/Women's Socks