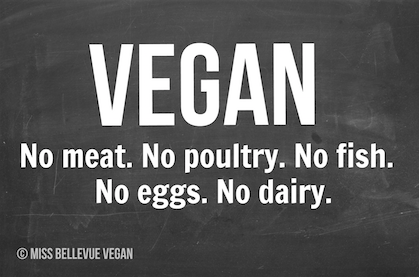 Veggie options are becoming regular requests driven from consumers overall demand for healthy and fresh menu choices, and downtown Bellevue restaurants are listening. From menu creativity featuring vegetables to new culinary favorites, eating vegan has never been easier. – Kristin Wuhrman, Owner of Miss Bellevue Vegan.
Veganism, (aka the "V" word), has come a long way. What was once thought of as a lifestyle for earth loving hippies, has been gaining popularity and momentum to where it is now a mainstream choice that could drastically alter one's health. There is more awareness and education around the effects that factory farming has on our planet, as well as what's going on with over-consumption and mass production. Consumers overall demand for healthy and fresh menu choices are becoming the standard. A lot has changed. Science is now supporting plant-based diets for optimal health, and veganism is appealing amongst celebrities, athletes and families – especially those who have young children with food allergies. And it's not just the awareness in veganism that's growing—Americans are choosing more and more meat-free meals. "It's changing the way people see food. They are really taking an interest in where their food comes from," says Tom, Owner of Moksha Indian Cuisine in Bellevue.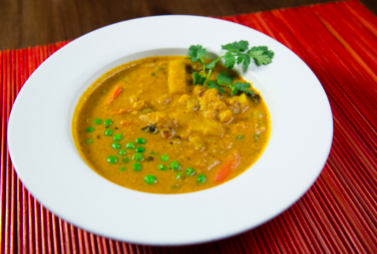 Photo: Vegetable Korma (vegan) from Moksha Indian Cuisine
And it's not just consumers; it's also a rapidly growing culinary trend. From new vegan restaurants, featured vegan dishes, vegan chefs to raw vegan cooking schools, it's much easier and exciting to live a vegan lifestyle at home and out on the town. "We have seen a lot of restaurants keeping vegan options on their menu", says Eric Brent, Founder and Director of HappyCow (www.happycow.net), the premiere website for finding vegan and vegetarian places to eat around the world. A perfect example is the Blackened Tofu Steak with Caramelized Onion and Charred Corn Succotash from El Gaucho's in Bellevue. Execute Chef, Sarah Scott created this dish as a result of frequent veggie requests from their busy lunch crowd. It's now a very popular dish on their menu. "I love getting special requests. I'm always keeping up with dietary restrictions so I can accommodate my guests when they dine with us," says Scott.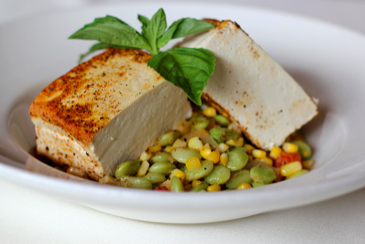 Photo: Blackened Tofu with Caramelized Onion Succotash (vegan) from El Gaucho
Downtown Bellevue Restaurants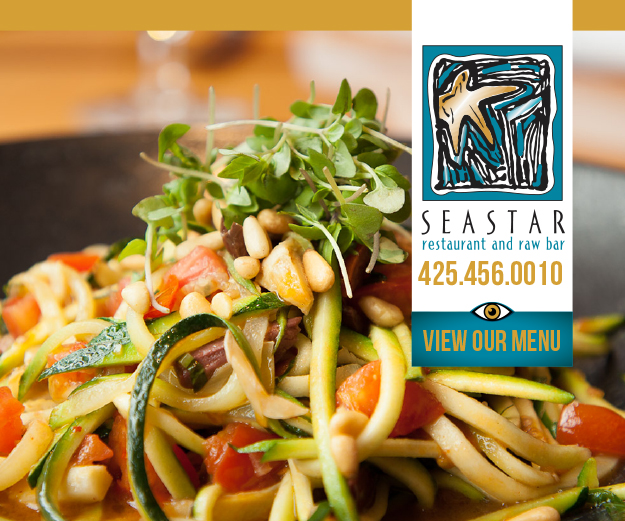 Downtown Bellevue deserves the well-earned reputation as being the most vegan-friendly and vegan-accommodating group of educated restaurants providing incredible individualized customer experiences. With such a diverse group of restaurants, from Steak Houses to Indian Cuisine, being vegan is easy in Bellevue.
"We will completely tailor our menu for customers that have special requests. If a customer requests a raw vegan meal, we can easily accommodate them," says Micah Pittman, Owner of 99 Park – a huge supporter of vegan and raw food. Lindsey Malo, one of the team members at 520 Bar and Grill adds, "we really take time to make each experience individual, even down to the menu. Anything for everyone. We believe in this culture from our kitchen to our servers."
Many restaurants may not appear to be vegan friendly, however they are eager to meet the needs of any guest with a dietary restriction. "We realize at first glance our menu may not appear to be to vegan friendly, however we will accommodate any guest. Today there are so many needs for dietary preferences, sensitivities and intolerances, and in the service industry it's our job to provide the best experience for anyone," adds Lindsay Bowen, Private Event Manager with Tap House Grill.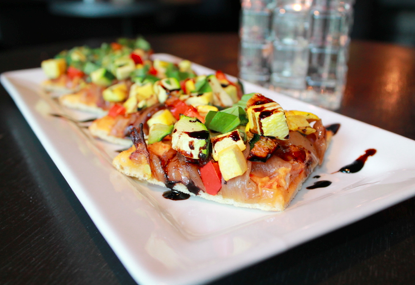 Photo: Vegetable Flatbread (vegan modified) from Suite Restaurant/Lounge
The Restaurant List
This spring's top vegan-friendly list includes restaurants that I'm a regular customer at or that I've interviewed. Since this list isn't meant to be exhaustive, be sure to let The Downtown Bellevue Network know your favorites in the comments.
520 Bar and Grill
www.520barandgrill.com
Featuring many items on the menu that are vegan or can be easily modified.
MBV Favorite: Craisin Walnut Salad (no cheese, extra avocado, extra veggies, oil & vinegar)
99 Park Restaurant
www.99park-restaurant.com
Entire team is educated and in tune with vegan and other special diets. They will completely tailor the menu for customers with special requests
Coming soon: In-house fermented vegetables. "We like to keep people healthy." – Micah Pittman
Moksha Indian Cuisine
www.mokshadining.com
"Indian food is often viewed as a medicine because of the many spies. We have 34 different spices. Our goal is to offer good food for health." – Tom with Moksha
Offering many vegan options and will accommodate special diets with ease. Also, most of the menu is gluten free.
MBV Favorite: Vegetable Korma – Onion roasted whole baby eggplant, seasoned with sesame, curry leaf, garlic, coriander, ginger and star anise. (pictured above)
El Gaucho
http://www.elgaucho.com/El-Gaucho-Bellevue.html
Staff is very educated on special diet requests
"Even though we are a steakhouse, we have many vegan options" – Sarah Scott, Executive Chef
MBV Favorite: Blackened Tofu with Caramelized Onion Succotash (pictured above)
Suite Restaurant/Lounge
www.suitebellevue.com
Featuring many options that can be modified very easily.
"When we roll out our new menu this spring, it will include two vegan dishes that do not need to be modified." – Kate Tucker, General Manager
MBV Favorites: Chipotle Tacos (no chipotle crème, add roasted vegetables)
Vegetable Flatbread (no cheese, add house made roasted red pepper hummus)
Bis on Main
www.bisonmain.com
"We get requests all of the time and will happily create a vegan entrée. We have many ingredients and sides, and our chef is happy to customize." – Joe Vilardi, Owner.
Tap House Grill
www.taphousegrill.com
Eager to meet the needs of any guest with any dietary restriction
MBV Favorite: Asian Grilled Chicken Salad (no chicken, no crouton, extra avocado and tomato, oil and vinegar)
Cactus Restaurant & Tavern Hall
www.cactusrestaurants.com
www.tavernhall.com
"Our servers are trained and we can modify quite a few things to create some excellent vegan options," says Brent Novotny, Culinary Director at both Tavern Hall and Cactus.
MBV Favorite at Cactus: Chipotle Prawn & Kale Salad (no prawns, add portabella mushroom)
MBV Favorite at Tavern Hall: Chop Salad (no meat, no crouton, no cheese, oil and vinegar)
Lot No. 3
www.lotno3.com
MBV Favorite: Sweet Potato Hash (no eggs, add quinoa)
Purple Café
www.thepurplecafe.com
MBV Favorite: Quinoa and Arugula Salad (no cheese, add avocado)
Pearl
www.pearlbellevue.com
MBV Favorite: Roasted Beet Salad (no cheese), Wild Mushrooms (no butter) Risotto (no butter)
Local burger
www.localburger.org
MBV Favorite: Beet Salad (without Rogue Bleu Cheese) and Sautéed Seasonal Greens
Additional Vegan-Friendly Restaurants
Daniels
Bakes Place
Cypress
Gilberts on Main
Wild Ginger
Black Bottle
Earls
Nordstrom – The Grill
Palomino
Joeys
Zen Express
Essential Baking Company
Downtown Bellevue restaurants strive to creative repeat, personalized experiences for their customers, so take the time to get to know your favorite spots. Please say up front you are vegan and would like to know what your options are.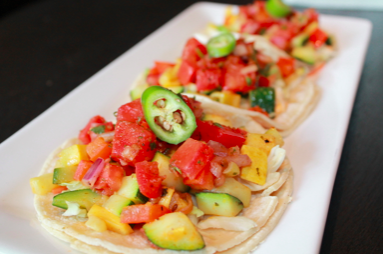 Photo: Chipotle Tacos (vegan modified) from Suite Restaurant/Lounge
About The Author
Kristin Wuhrman (aka Miss Bellevue Vegan)
www.missbellevuevegan.com
Plant-Based Health Educator & Coach, Board Certified Holistic Health Practitioner, and Founder of BEVEGAN® Consulting.
Kristin helps people and businesses transition into or understand the benefits of a whole-food, plant-based diet. She works with health nuts, athletes, outdoor enthusiasts, families and those interested in long-term health. She's a proponent of living authentically, developing mindfulness, following your dreams, and creating lasting healthy habits. Outside of her health consulting business, Kristin and her husband, Erich enjoy canoeing, mountaineering, hiking, biking, golfing and playing pickleball together.
"By living a plant-based lifestyle, my performance, recovery, and energy levels are always at their highest. I am a strong believer that this lifestyle enhances health, physical performance, and mental clarity." – Kristin Wuhrman