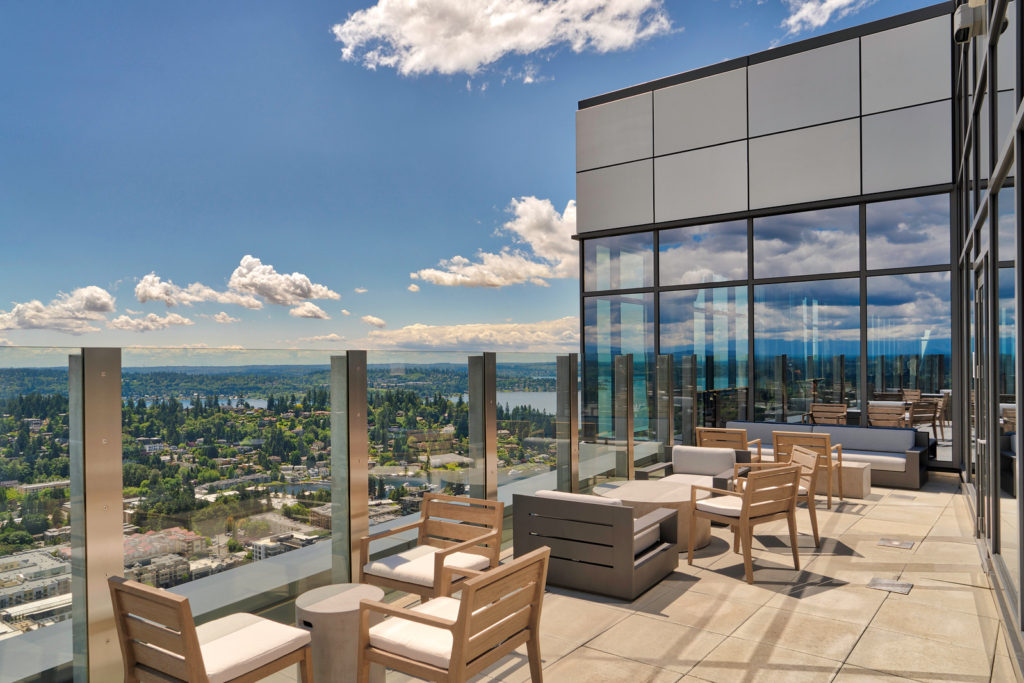 With glimpses of beautiful weather right around the corner, how are you taking advantage of these warmth filled days? Bask in that summer sunshine while enjoying patio dining at The Bellevue Collection. From 21 and over hot spots to indoor/outdoor seating, The Collection's Dining District has it all. Below are 12 different patio options to help you decide where to eat and sip on delicious food and drinks while catching some rays.
With over 250 dishes made from scratch, head over to The Cheesecake Factory with the whole family and take advantage of their heated outdoor patio on weekends, while the weather is nice. Located street level at the east side of Bellevue Square along Bellevue Way, the restaurant's patio is situated next to a wide-open space and a water fountain to keep the kids entertained.
If you don't want to wait for the weekend to savor the sunshine and a nice meal, visit the outdoor patio space at Central Bar and Restaurant. Situated between The Westin and the W Bellevue, this restaurant offers Northwest fare and small plates while sitting in a tree lit alleyway with tables and couches for your personal preference. Looking for a casual, upscale eatery with eclectic dishes from around the world? Joey Bellevue has a large outdoor space and features dishes like seared salmon sushi, Baja fish tacos and Indian butter chicken. For a brewery that has an extensive beer list with seasonal specials and fresh made-to-order fare, head over to Henry's Tavern on the third floor of Lincoln Square South. Their patio includes umbrellas and a fire pit. Open for breakfast and dinner, Cypress Lounge and Wine Bar features American cuisine and classic cocktails that can be enjoyed at their spacious outdoor patio.
Enjoy a cocktail with a view at Ascend Prime Steak and Sushi, located on the 31st floor of Lincoln Square South. The patio in the bar area is currently open, boasting 360 degree views of the Seattle Skyline, the Cascade Range, Mouth Rainier and Lake Washington. American steakhouse and Japanese sushi bar come together to bring guests top notch food and service. If you're looking for prime steaks, plant-based menu items and high end spirits sans children, Daniel's Broiler also has their outdoor patio open in the bar area with views of the Olympic mountains, downtown Bellevue and the Seattle skyline. For shareable small plates, specialty cocktails and an outdoor area featuring a fireplace for crisp sunny days, pop into Suite Restaurant and Lounge, located in the lobby of the Wintergarden in the Hyatt Regency Bellevue. If you're looking to get some fresh air after going to the movies, go to the 21-and-over movie theatre, Cinemark Reserve Lincoln Square. They have an outdoor patio, signature cocktails, a full menu and hand-crafted desserts.
If you desire an outdoor feel but are fonder of the indoors, stop by McCormick and Schmick's Seafood and Steaks. Their indoor patio area is located on the first floor of Lincoln Square North and has seasonally inspired dishes that will satiate those seafood and steak cravings while accompanied by a unique dining experience. The Irish oasis that is Paddy Coyne's Irish Pub, features authentic Irish food and beverages with items like corn beef, cabbage cakes and Guinness beer, and has a heated atrium built off the front of the restaurant, fitting up to 30 people.
Please contact each restaurant to confirm that their patio space is open, weather permitting. To learn more about the restaurants within The Bellevue Collection's Dining District, please visit their website.