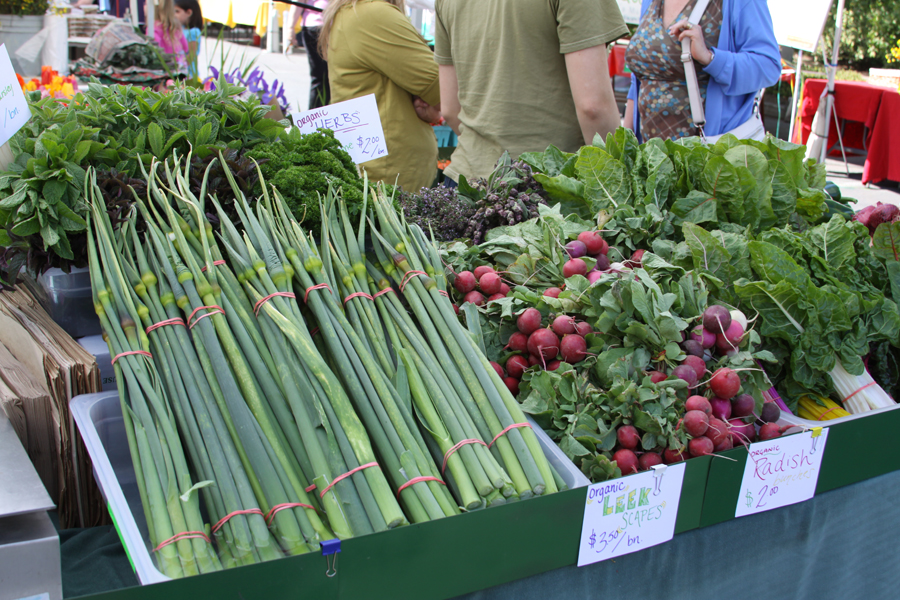 With the ringing of a bell, the Bellevue Farmers Market opened at First Presbyterian Church of Bellevue to eager crowds with shopping bags and baskets in-hand. Open on Thursdays through October 14th from 3pm – 7pm, Downtown Bellevue's farmers market is the place to get a look at what's local and fresh; located a few minutes north from the main downtown hub, on Bellevue Way NE, in the parking lot of the church. Dozens of vendors set up their tents every week, offering the latest fresh goods from local farms and dairies, as well as prepared foods like fresh bread and even wood-fired pizza made on the spot.
On the market's opening day, people were lined up to peruse all the springtime offerings, which included items like the sturdy ruffled kale, small onion bulbs and scallions, asparagus, and unusual items like stalks of wild leeks, also called ramps. There were also the uniquely Pacific Northwest offering of vendors who sold locally-foraged items like fresh morel mushrooms and tender curls of fern shoots called fiddleheads. It's currently the springtime harvest of greens, so thin-stalked blooms of broccoli rabe and root vegetables like colorful radishes are the items that grow well in the post-frost of winter; the change of the season will certainly produce more warm-weather items like tomatoes, eggplant, summer squash. like zucchini, and the stone fruits of summer – cherries, peaches, and plums. Vendors who grow items in greenhouses were already selling heirloom tomatoes in their unique asymmetrical shapes and distinctive variegated colors, tempting shoppers with the fruits of the summer season to come.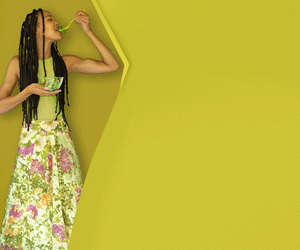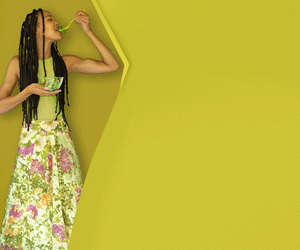 Even for those not looking for fruits or vegetables, there are several food vendors that offer prepared items and meals. Artisanal cheese makers offer gourmet flavors of handmade cheese from both cow's and goat's milk. There are fresh breads, pies and cakes offered by local bakers, tamales ready to eat, and pizzas made to order. There's a performance area for local bands to play, so if you don't want to shop for groceries, the Bellevue Farmers Market is the perfect place to visit after work to enjoy dinner and live music. Looking for a unique gift or something sweet? There are handmade soaps as well as locally harvested jars of honey.
The Bellevue Farmers Market is a lively example of the return towards supporting local growers and businesses that source their ingredients close to home. It's a chance to experience shopping with the seasons and purchasing the freshest local items, which yield both quality flavor and a reduced carbon footprint in the distance traveled to get to one's plate. For those who haven't taken advantage of the bounty of local farmers, be bold, try a new ingredient, ask the vendors questions, and don't be afraid to eat your greens – you might be surprised how good fresh vegetables taste.
Saturday market days are being added on June 5th, at the Washington Square location on NE 8th, in addition to the regular Thursdays at First Presbyterian Church of Bellevue. For the Thursday market days, cars quickly fill up the first parking lot on the right of the entryway, but people are stationed to guide traffic to overflow lots closer towards the church. It's an outdoor market, but animals (other than service dogs) are not allowed.
Bellevue Farmers Market
Thursdays 3pm – 7 pm
May 13 – Oct 14
First Presbyterian Church of Bellevue
1717 Bellevue Way NE
Saturdays 10am – 2pm
June 5 – Nov 20
Washington Square
10610 NE 8th Street
[nggallery id=39]