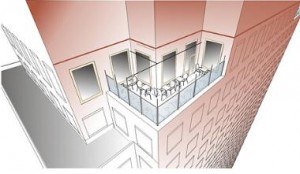 Views at Daniel's Broiler in Bellevue just got better!
As you may know Daniel's Broiler has one of the best views in all of Downtown Bellevue, at 21 stories high at the top of the Bellevue Place building. In the middle of July Daniel's Broiler will open an outdoor patio, complete with a teak garden bench as well as other attractive furniture.
Customers will be able to enjoy happy hour on the patio from 4pm -6:30pm and 9pm – midnight.