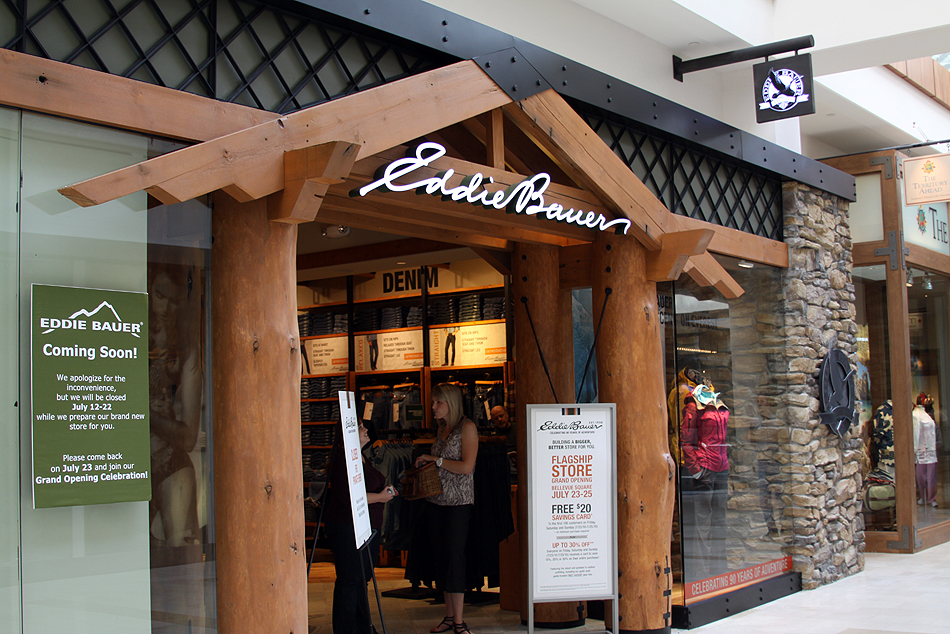 Unlike other companies that use created names for their brand, Eddie Bauer is a real person. He was the 1st to make quilted goose-down jackets in the country, and the appreciation for glossy-coated black labs isn't just photogenic for catalogs; Bauer brought the 1st Labrador Retriever into Washington State in 1930. Born in the San Juans, his love of the outdoors inspired him to open a sports shop in the 1920's in Seattle. The appreciation for a lifestyle that embraces nature continues 90 later as the new Eddie Bauer flagship store opens in Bellevue Square Mall, with a distinctive new look that harkens back to the history of the company's namesake.
With an official ribbon-cutting ceremony set for 9:30am on Friday, July 23, the new store will welcome visitors into a store that feels less like a retail experience and more like the opportunity to explore an adventurer's closet of collectables. A row of upside-down canoes hang from the ceiling, running the length of the store, presenting its woodsy lodge feel. Tall wardrobes house racks of clothing styled with a touch of vintage, as though you're looking through a personal closet. Towards the back of the store there is a cozy hunter green nook with a wall of old photos and a sitting circle of timeworn leather chairs. There's a personal touch on everything in the store, giving people a chance to see Eddie Bauer's return to its heritage. Don't be surprised to see a fuzzy, wet-nosed friend bounding through the store – the official company mascot, a black Labrador retriever puppy, is known to make special appearances.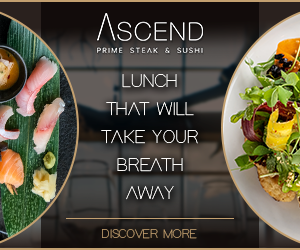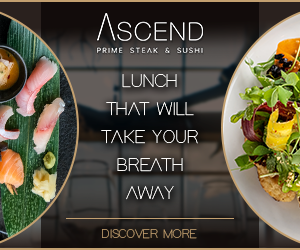 The combination of fashion and function remains in the flagship store, past the comfy sweaters and softly-worn denim. The outdoor gear of backpacks and basic hiking equipment is expanded with their new First Ascent line of mountain outerwear. To celebrate the grand opening on Friday, customers will have the opportunity to meet special guests Jim Whittaker, the first American to summit Mount Everest, and Ed Viesturs, a high-altitude mountaineer who has not only conquered Everest, but all 14 of the world's 8000-meter peaks.
Special events also include a free $20 savings card to the first 100 people who arrive on Friday, Saturday, and Sunday (July 23-25); plus, every customer on those days will receive a special discount card worth 15-30% on their entire purchase. On Saturday, Eddie Bauer is sponsoring a free climbing wall at Bellevue Square's Center Court from 11am – 6pm, so don't forget to get your 'Passport to Climb' at the new store to have an adventure of your own.
[nggallery id=45]