Join the Sea Gals for the initial unveiling of the '2012 Sea Gals Calendar' at Munchbar in Bellevue. This event will begin at 7:00pm on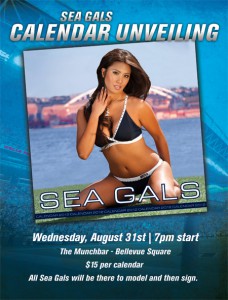 Wednesday, August 31st. Munchbar, at Bellevue Square Mall, is located at 505 Bellevue Square, Bellevue, Washington.
Also featured that evening will be an introduction of the 2011 SeaGals squad, an inside look into the making of the calendar and an exclusive autograph session. Calendars will be available for sale at the event for $15.
Online sales (including pre-orders) for the calendar will be available in the coming weeks.