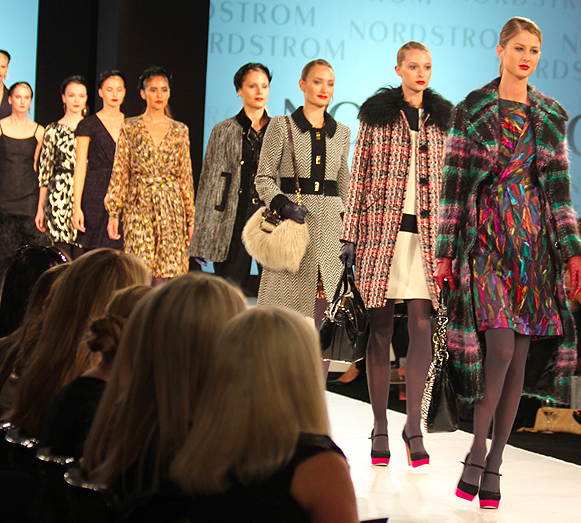 Eastside fashionistas put on their stylish best for the week, from Sept 28-Oct 2, for the 2011 edition of Fashion Week at the Bellevue Collection. Events ranged from the Glambition: Girl Power Hour Anniversary Party that kicked off the celebration starting Wednesday, to the nightly runway shows including the Nordstrom Fashion Show and Front Row Fashion Presented by Vogue Magazine on Saturday, finally closing out with the Undressed Runway Show for REPORT shoes and SEVEN Salon on Sunday. This year's Fashion Week made sure Bellevue was style-ready for the season from head to toe.
It wasn't just about the clothes and shoes, the runway shows were the opportunity to bring awareness to local causes and community projects. 100% of the tickets from the Front Row Fashion event went to The Moyer Foundation, a local charity formed by baseball pitcher Jamie Moyer and his wife Karen, devoted to raising funds and sponsoring programs to assist children in distress. For several years, the Detlef Schrempf Foundation has partnered with Nordstrom to use their runway show to benefit a local charity or community program, and this year's show supported the Bellevue Youth Theatre, which provides opportunities for children and young adults to channel their creative energy through performance arts.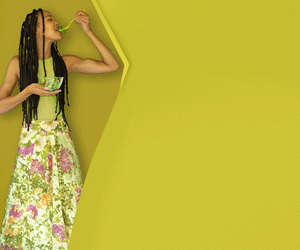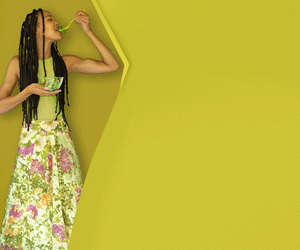 The Hyatt Regency Bellevue is transformed into a glamorous, brightly-lit runway where all the featured shows take place. For the headline evening shows, the event draws a large crowd of well-heeled fashion mavens eager to see what styles and trends will be represented. Before the doors open for the show, guests sipped cocktails and nibbled on appetizers in a lounge-styled setting of floor to ceiling drapes, plush couches and booths. For the sold-out Nordstrom Fashion Show, they had a special boutique area set up with some of the latest seasonal accessories and shoes, available for guests to try on and purchase.
So what were some of the trending themes that appeared most consistently, and what did the runway selections suggest for the fashion-minded crowd?
Bright, Bold Color – It's a simple way to make an eye-catching statement, whether it's worn as a single color in an all-over outfit, or color blocked in a bright top and equally bold pant or skirt. And it doesn't have to be in large amounts; a small dose of a bright hue as an accent flourish on a jacket can be enough to add interest to a neutral piece.
Battling Hemlines – The traditional notion of long dresses for night and knee-grazing skirts for day is being flipped. More above-the-knee hems for cocktail dresses were seen, making bare legs the focal point, balanced out with longer, modest-length sleeves. Longer hemlines in light wool fabrics or transforming a floor-sweeping maxi dress into a fall outfit is the trend for day. As long as the skirt's length is tailored to fit the wearer and the right height of their boot or chunky heel, the look is able to fashionable and not frumpy.
Pattern Recognition – Strong geometric patterns like stripes or the classic plaid are being refreshed in modern silhouettes, unusual color combinations and rich fabrics. The boldness of stripes or the crisscross of a tartan is a way to keep the eye constantly moving and acts as fashionable camouflage for areas you don't wish to bring attention to.
Feathers, Fur and Sequins – Dramatic flourishes like fur (real or faux), the flutter of a feathered hemline, or a dazzle of sequins are on everything, from day to night. Sequins are a strong presence on evening wear, going for all-out bling covering a cocktail dress, but it's also seen on blouses or skirts, in neutral, frosted metallic hues and toned down by cozy cardigans for wearing in the daytime. Feathers and fur are an eye-catching addition to a nighttime look, and the look of fur can still be transformed for the day, used in smaller doses on coat collars or even a statement handbag.
Statement Accessories – Layered infinity scarves or ones with a showcase pattern, as well as large layered necklaces were seen across several runway shows. They're easy items to add to neutral or simple outfits, making a look fresh. Hats are also another way to make an outfit feel dramatic and keep the winter chill away.
[nggallery id=60]