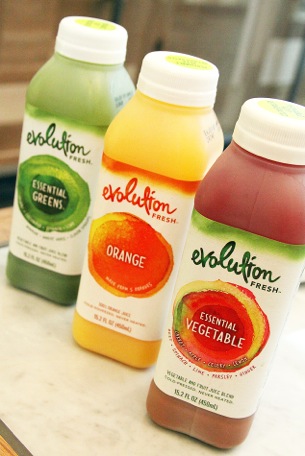 It's called a lunch "hour" but most people will say it's half that time or less, considering how long it takes to find a place and wait for your order. It's no wonder so many hit the drive-through and quickly eat a lackluster burger on the way back to the office. It doesn't have to be that way, according to the newest shop to not only hit Bellevue, but the country – Evolution Fresh is poised to start a healthy revolution. Offering natural juices and smoothies, a food bar with healthy made-to-order meals, and a grab-and-go case of prepared foods and bottled juices, Evolution Fresh wants to energize people and change how they look at food.
"Healthy doesn't have to be scary," assures Becki Holmes, a Registered Dietician at Starbucks Coffee Company who was involved with developing the Evolution Fresh menu. She has been on-hand for the opening of the store to explain its concept of offering healthy delicious food for a busy professional community. The Bellevue location is the first retail store to emerge from the acquisition of Evolution Fresh by Starbucks in November of 2011 Started in California by Jimmy Rosenberg in 1992, Evolution Fresh focused on super-premium juices that combine fresh fruit and vegetables into unique blends, produced through an innovative technology of non-heat pressure technology called High Pressure Processing (HPP). The cold press and squeeze method retains the juices' vitamins, as well as its raw, fresh flavor and vibrant color. These signature juices are the crown jewel of the Evolution Fresh store, showcased in a towering Juice Wall, what Becki Holmes jokingly described as "an alter to the juice," it's comprised of six panel screens that display bright, colorful images of fruits, herbs and vegetables, listing off health benefits and trivia. A full menu of their juices and smoothies appear when a customer hits a button on the counter, and as a person's order is created using the row of juice taps along the bottom, the Juice Wall comes alive with vibrant hues and swirls of watercolor strokes that represent each ingredient being used to make a drink. Food as theater, furthering Evolution Fresh's mantra that good nutrition is neither boring nor flavorless.
Several juices are on tap at Evolution Fresh's Juice Wall: Vital Green (a blend of greens), carrot, beet, coconut water, cucumber, pineapple and blueberry. From that foundation, people can order a handcrafted juice blend like their Green Julep, a sweeter take on the traditional all-greens juice, adding pineapple and apple, with the freshness of mint. Or give your tastebuds a wakeup call with their Sweet Burn, an invigorating mix of coconut water, pineapple, apple and beet juice, with a kick of cayenne and ginger. For those wanting more texture in their drinks, smoothies are available, using the same ingredients and thickeners like nonfat Greek yogurt or bananas. People can customize their drinks with traditional add-ins like wheatgrass shots, but their goal is to present the juices in a welcoming environment that's more modern café than health store. The walls aren't covered with percentages or nutritional numbers. The store is clean and bright like a canvas, allowing the natural flavors of their ingredients speak for themselves.
What separates Evolution Fresh from a typical juice bar is their food menu. Serving breakfast, lunch, dinner, plus sweet treats and snacks, it's convenient for people to grab a healthy meal at any time of the day. Their breakfast choices include hot scrambles with eggs mixed with whole grains like quinoa or brown wild rice, roasted red peppers and greens. There are cold offerings like their muesli, with whole oats, fresh and dried fruit, and nonfat yogurt to make it into a creamy pudding. Their lunch and dinner menu has salads, sandwiches and wraps, including their signature bowls, which can be served cold like a salad of lentils, wild rice and kale, or it can be made into a Hot Simmer, where vegetable stock is poured over and steams the ingredients into a hearty soup or stew. People can also customize their meals with one of four sauces like lemon tahini or tamari five-spice. Many of the meals come vegetarian, with the option to add grilled steak or chicken. Their menu has symbols next to their foods, listing items as vegetarian/vegan-friendly and non-wheat. They also offer hot soups including a classic tomato, a hearty French lentil or cannellini kale soup. Evolution Fresh wants to make people crave-worthy healthy snacks, like their new Mel Bar, a treat that is both sweet and savory with almond butter, nuts and seeds, crisp puffed millet and a sprinkle of coconut. People can sit or get their orders to go, and there's even a delivery option. Within a mile of the downtown shop, they offer a delivery service on a customized recumbent bike. The delivery window is Monday through Sunday, 11am-2:30pm. The full menu is available with a $15 minimum order by calling their number; they accept credit and debit cards as well as Starbucks cards.
Evolution Fresh, Located next door to the Starbucks in the Lodge in Bellevue Square Mall, 545A Bellevue Way, 425-453-1285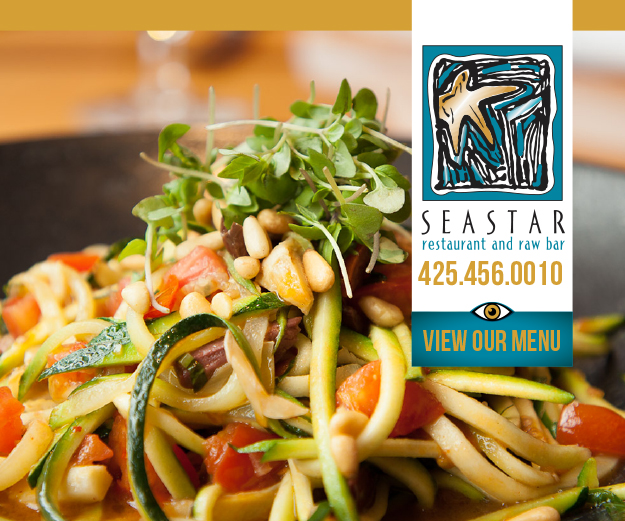 [nggallery id=73]