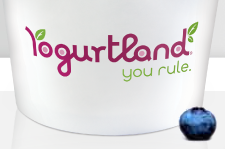 Have you been to Yougurtland in Downtown Bellevue since it opened in late January? If so you'll notice how hard it is to find a parking spot in their shared lot (which I'm sure the other merchants can't be happy about). On several occasions, at all hours of the day and night, their parking lot is packed full.
Why does this this yogurt shop appear to be more successful than its competitors? I'll give you what I think are three reasons to their success:
Location – In Bellevue, most parking is free, but sometimes that isn't enough to win customers over. Yogurtland's parking lot is quite accessible and allows simple 'in and out' access off of Bellevue Way.
Price – The yogurt and toppings are very reasonably priced. The weighted price is less than most of its competitors, making it an affordable treat for everyone.
Late Night Hours – People have been looking for places to congregate that are open later, yet aren't a bar, restaurant or club. This is especially true for younger customers under 21, particularly those of high school age. Yogurtland fulfills not only customer's sweet tooth, but also their desire for a late night destination. Their hours of operation are: Sun-Thurs 11am-11pm & Fri-Sat 11am-Midnight.
Have you been to Yogurtland recently? What do you like about your visit? What do you dislike? Sound off in the comments section below.