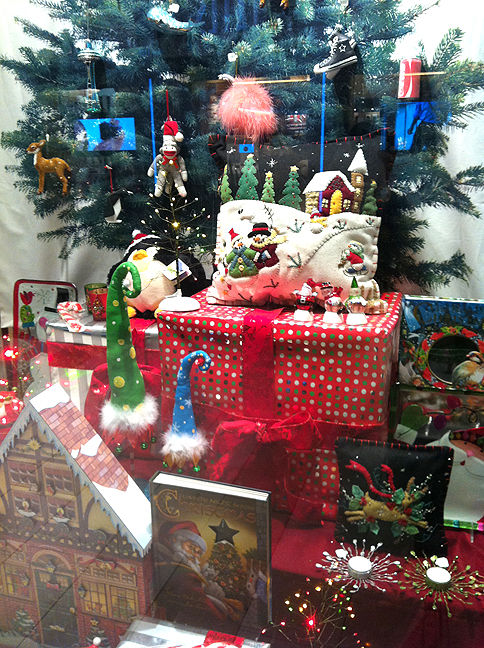 Gift-giving is truly an art, seeking out a special item that really speaks to the recipient and shows you took some time thinking about its selection. When a gift card or something overly pragmatic won't do for a loved one, consider some of Downtown Bellevue's unique shopping spots to find that perfect gift. Visiting these 3 stores are a reminder that it's as enjoyable to explore creative shops as it is to receive the gift you'll no doubt find in any of these places.
1.) Set inside a small enclave on the top floor, the Nordstrom Home Store is like a mini boutique within a department store. It's a perfect fit for those with an eye for classic elegance, with attention to an appreciation for the art of hosting and a well-designed living space. There are the latest cookbooks for the at-home chef you know, a nice compliment to a new cocktail shaker or specialty wine rack.  Nordstrom's kitchen and dining collection includes designer stemware from Kate Spade that reflects her classic, simple design sense that so many have come to appreciate in her clothing and accessories. Nordstrom carries other designer items, including pieces from Jonathan Adler, a well-known artist who adds a retro 60s and 70s flare to his pieces, from fabric patterns on throw pillows to novelty-shape salt shakers.  For a softer, more romantic style of gift, the Ben's Garden collection has delicate script-decorated trinket trays, perfect for holding jewelry. The vintage-inspired items include glass paperweights decorated with quotes and inspirations, as well as elegant notepads – perfect indulgences for the person who appreciates little courtesies.
2.) For the collector you know, or that person who deserves something truly one-of-a-kind, why not shop at a museum? The Bellevue Arts Museum's Museum Store offers a carefully curated selection of original treasures by artists from all over the country. One of their unique featured collections is Preston Singletary's  glass art, inspired by native Northwestern tribal art. Popular items are prints, books and calendars from local cut-paper artist, Nikki McClure, whose exhibition is currently on display. The store also has art you can wear — exquisite jewelry and hand-woven scarves or handbags, created by artists featured in the museum's annual ARTSfair summer festival. Many items are exclusive to the store, and it's a rare opportunity to own an artist's work. If you aren't able to bring home the art itself, the store sells exhibition catalogues, books of artists' collections, sometimes signed by the artist.
3.) A gift is all about finding something to bring a smile to a person's face, or some small, fun trinkets for any age. Fireworks in the Bellevue Square Mall is a gallery for quirky finds. A Washington original, with its first store opening in Seattle in 1985, the Bellevue shop has been open since 1994. It's a unique retailer in that it features dozens of local artists, but also seeks out national and international artisans to fill their store with whimsical pieces, like handbags made from woven seatbelts. Even when it's not the holidays, it's festive year-round, with pillars strung with decorative lights and displays full of handmade ornaments. Their children's section is full of thoughtful books and fun wearables, like the colorful patterns of Zutano clothing. There's a sly humor to a lot of the items, like books about speaking zombie or greeting cards with the I Can Haz Cheezburger cats.  It's a cleverly curated shop that appeals to both humor as well as those looking for conversation pieces for both home and wardrobe.