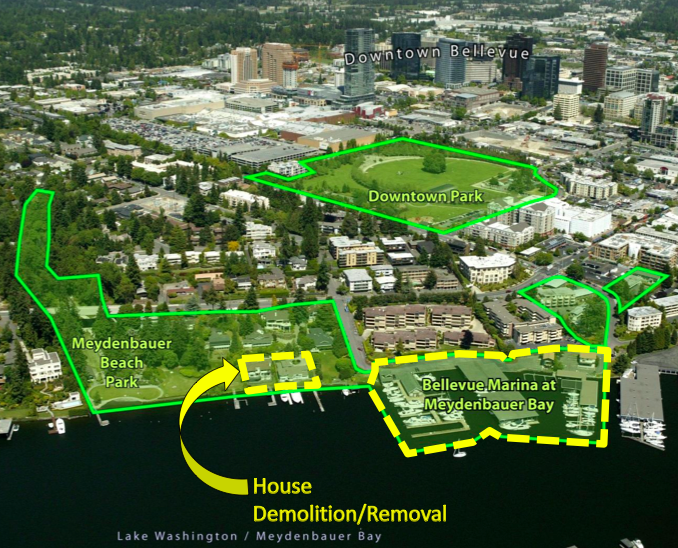 We have previously reported on projects related to Meydenbauer Bay Park and Marina. New construction will provide fourteen visitor moorage slips at the marina and public access to two additional waterfront properties at Meydenbauer Beach Park. City staff worked with the Meydenbauer neighborhood and KPFF Consulting Engineering, Seattle, to identify a design to fit the needs for visitor moorage.
Project Status
Environmental and construction permitting for the visitor moorage renovations and the residential dock removal is complete. The project has been submitted for public bids.
City staff continues to research and draft goals and objectives to complete the visitor moorage.
April/May 2013 – Public bid and contracting for visitor moorage and dock removal.
Summer 2013 – Construction schedule:In-water work will be scheduled between July 16 through September 30. Marina work halted during 4th of July, Seafair and Labor Day weekends. Construction should be complete in Fall 2013.
Spring/Summer 2013 – Visitor Moorage Management Plan and neighborhood meeting research continues. City is drafting and will share the plan soon.
Late Fall 2013 or Early 2014 – Visitor moorage will be available for public use.
Summer 2014 – The Utility Department's Sewer Lake Line Replacement project, previously scheduled to occur the summer of 2013, postponed until next summer.
2014/2015 – Public access to the park properties cannot occur until undergoing land use permitting, so fencing will remain until park use is permitted. In December 2012, City Council approved capital funds to execute an the first phase of park development (west of 99th Avenue SE) of the Meydenbauer Bay Park & Land Use Plan. The City will seek input from the neighborhood and community towards this phase of development.
2018/2019 – The first phase of the master plan development is estimated to be available for public use.
To view one of the past presentations that visually shows the plans for land from a neighborhood meeting visit the City of Bellevue website.