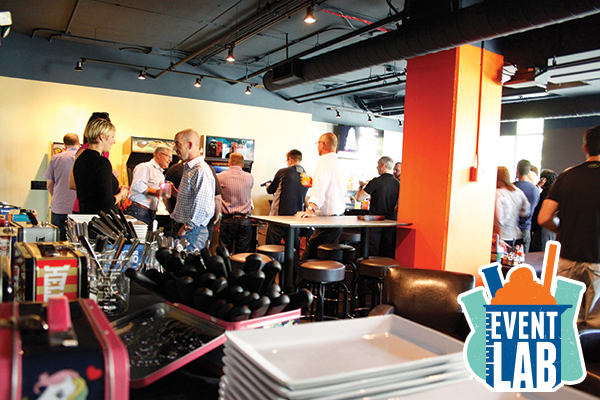 The
Lunchbox Laboratory
is known in Bellevue, Lake Union and Gig Harbor as a place to have delicious lunches, dinners and cocktails. For the uninitiated, the "Laboratory" offers comfort food with an off-the-wall twist.
Now, the Bellevue location is expanding to an adjacent space to include a banquet room with a full bar and a special banquet menu. The facility will include complete audio visual connections for music, videos, allowing you the flexibility to broadcast your own productions or presentations on large screen televisions. Party goers will enjoy retro arcade games, in an intimate setting, to include up to seventy people.
It can be difficult to find accommodations for smaller events. The new facilities at the LunchBox Laboratory will accommodate rehearsal dinners, company, networking events and holiday parties. Whether you're looking for a venue for a casual mixer or a complete sit-down dinner, the Lunchbox Laboratory can tailor your event to suit your needs.
You'll have fun selecting menus for your event from the innovators at The Lunchbox Laboratory. Among the selections: burger buffets, salads, mac and cheese, and creamy milkshakes, all with a playful attitude. Like the Dork Burger offering the Lab's signature ground duck and pork blend patty, Lunchbox onions, Monterrey Jack cheese and roasted garlic mayo. Another example of The Lunchbox Laboratory's creative offerings: Chip 'n' Dip Classique – This is a spin on a party style chip dip that is loaded with bacon, roasted garlic and sauteéd onions. You'll enjoy that with The Lunchbox Laboratory's house made, natural potato chips, topped with rosemary-romano salt. There are many more original offerings, we suggest you stop by and peruse the mouth-watering menu yourself.
The Lunchbox Laboratory
Open 11am-11pm daily
989 112th Ave NE, Bellevue, WA
425-505-2676 // Free Parking