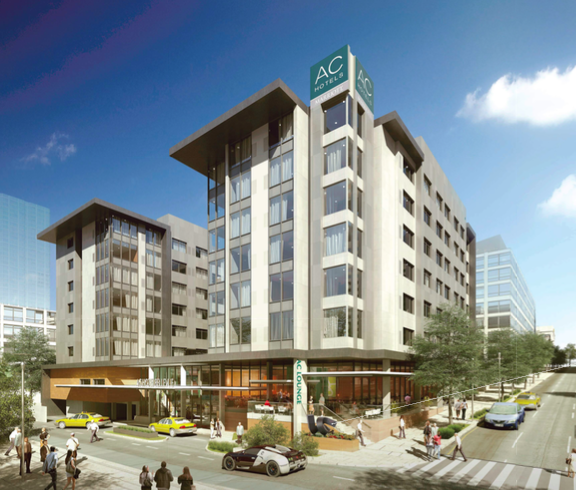 The City of Bellevue has approved the design for a Marriott AC Hotel at 10628 NE 2nd St in downtown Bellevue. The project is planned to be 7-stories, with a total of 110,000 square feet and 234 hotel units. These units will be one and two bedroom guestrooms. The hotel will have a lounge and bar area that has outside seating. The project is planned to come equipped with 106 under ground parking stalls.
The Marriott AC Hotel brand is new to the United States. There are currently 3 new hotels (New Orleans, Miami, and Kansas City) planned to open within the next 6-months according to the Marriott website. The Marriott AC Hotel brand has contemporary lobbies, and sleek hotel rooms. Renderings of their hotels from New Orleans and Miami are posted below.
The current site is occupied by a single-story building, where Bamboo Garden currently resides. The current building would be demolished in preparation for this project.
The project will be in an appeal period until September 25th, 2014.