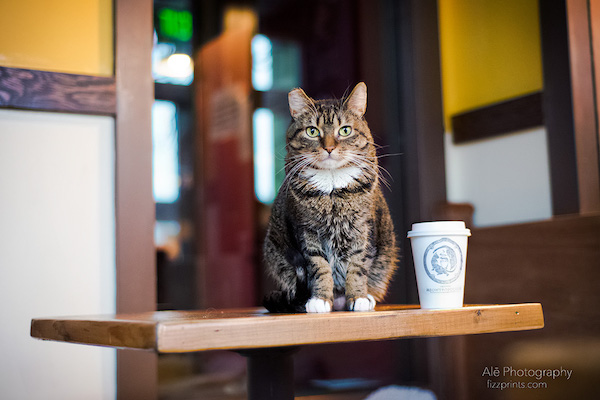 Earlier this week, I visited Seattle Meowtropolitan in Wallingford. This location has a coffee room and a separated cat lounge with cats that can be adopted, aside from their five resident cats. Their mission is "to create experiences between humans and cats." According to their website, they "further their mission by placing cats in need into nurturing homes, working with cat rescues and shelters, and providing resources to organizations dedicated to improving the lives of cats." The main goals are to get the cats adopted, inspire people to donate to benefit cats in need, and to create sweet interactions with the felines.
During my visit to Seattle Meowtropolitan, I attended a yoga class. Cats were laying on our yoga mats, walking around the room, and of course, sleeping in various spots! At the end of class, the yoga teacher handed out treats to each student so that we could hold out our hands to attract sweet, furry visitors. If teaching yoga sounds like something you're interested in doing (with or without cats!) then why not check out Yoga Teacher Training in Rishikesh for more.
You can schedule a cat lounge visit while enjoying coffee, tea or Italian soda from their cafe, take a yoga class, or attend family day (held on the first Saturday of every month), in order to interact with the different cats.
Why not bring a cat cafe to Bellevue? We all need cats, coffee and yoga in our lives.
Here are a couple potential locations that could be great for this:
– The Bravern
– The old Pier 1 Imports location on Bellevue Way
Bring on the cat yoga, Bellevue! Meowmaste.