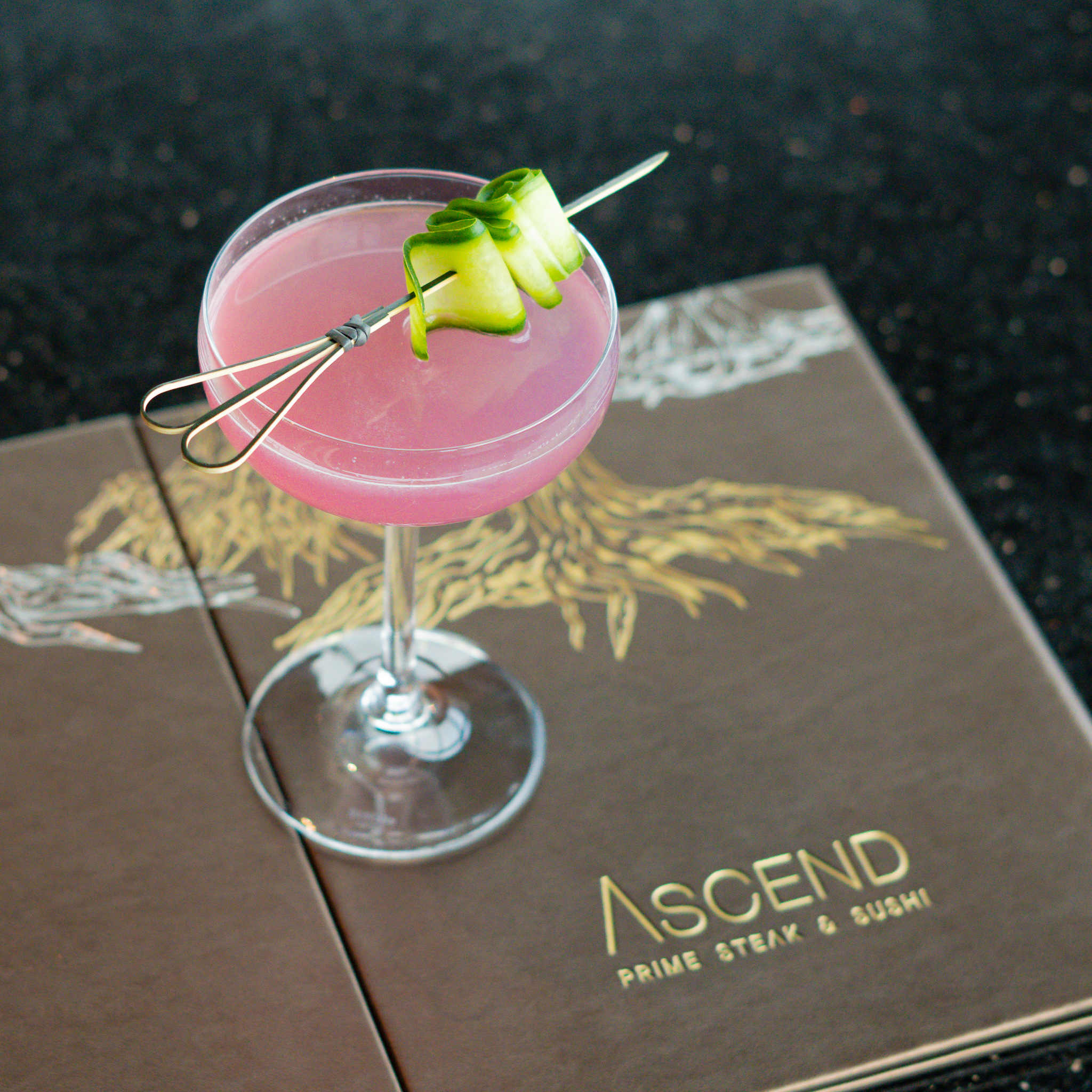 Seattle Cocktail Week celebrates the cocktail culture that has been created in Seattle and the spirits industry professionals behind them. This year, Ascend Prime Steak & Sushi will be participating as one of the venue's that will feature two cocktails tailored to fit what they specialize in and to give customers a unique experience.
Two featured cocktails will be offered at Ascend from March 1st through March 15th. The two drinks of choice will be "Monkey Business", which includes Bulleit Bourbon, vermouth, Banana Gifford Liqueur, walnut liqueur and bitters, and "Elixir of Life", which is made up of Hendrick's Midsummer Solstice, lychee liqueur, aloe liqueur, lemon juice, blueberry tea syrup, cucumber, pea flower, and lavender spray.
Seattle Cocktail Week's website also features three Ascend cocktails with their recipes that admirers can make from home, including the popular Washingtonian, The 1921, and The Knight Rider.
Additionally, the Ascend Prime team will be hosting a "Zen Bar" at the Cocktail District on March 7th, from 12pm to 4pm. Guests can enjoy pop-up cocktail bars, food, tastings, education, and experiences.
"Zen Bar" is an innovative, engaging presentation inspired by a traditional Zen Garden. Mixologist Chaz Lee will be assembling a complex Hendrick-based cocktail using tea blossoms and other fresh ingredients and complex techniques. Tickets can be purchased at the door or in advance of the event at Bell Harbor Conference Center.
Seattle Cocktail Week is giving away a trip to London Cocktail Week in October. To enter, contributors need to take a photo at one of the 60+ participating locations during Seattle Cocktail Week and post it to Instagram or Twitter with the hashtags #scw and #scw2london, or submit it on the SCW website.
Ascend Prime Steak & Sushi is located on the 31st floor in Lincoln Square South. Boasting 360 degree views of the Seattle Skyline, Cascade Range, Mount Rainier, and Lake Washington, Ascend occupies 22,073 square feet of space on the top level of the building.
Many amenities are featured at the eatery, including two indoor fire pits, sushi bar, wine wall, cocktail lounge, custom wood-fired grill, and an extensive private dining space. Contemporary architecture gives the space a classic yet chic feel with a lot of wood displayed throughout the design of the restaurant.
The food is influenced by Asian ingredients. The menu blends the experience of American steakhouse and Japanese sushi bar. The desserts are a work of art and whimsical in nature, made by their in-house pastry chef.
Ascend Prime features hand-selected drink options of beer, sake, wine and spirits from all around the world. The bar team is constantly creating unique cocktails based on seasonal flavors and inspirations.
The upscale restaurant features advanced and certified Sommeliers to assist guests with wine selections. They have highly allocated and rare selections for special occasions, wines with age and local favorites. The Ascend team recently won Wine Spectator's 2019 Best of Award of Excellence.
This is the first time that Seattle Cocktail Week is expanding to the Eastside. Ascend Prime Steak & Sushi is one of the only participating restaurants, along with three others.
Their hours are Sunday from 3pm to 10pm, Monday through Thursday from 11am to 2:30pm and 3pm to 10pm, Friday from 11am to 2:30pm and 3pm to 11pm, and Saturday from 3pm to 11pm.