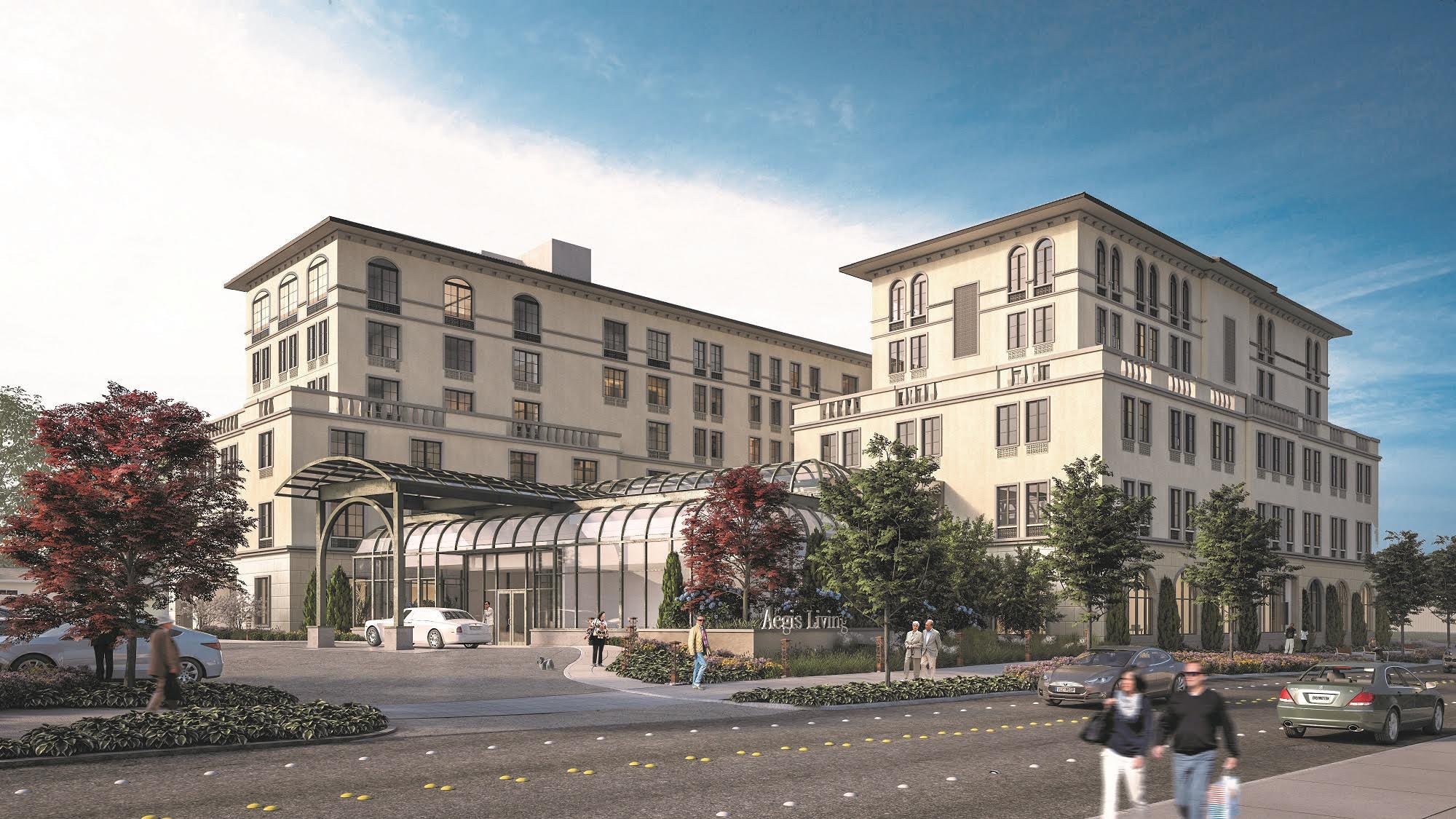 By design, Aegis Living Bellevue Overlake brings the outdoors in to help residents connect with nature to improve their health and sense of well-being. Opening in April on 116th Avenue NE near Overlake Medical Center, the 106,000-square-foot senior living community seamlessly combines the restorative power of nature with modern amenities for a luxurious lifestyle.
Seniors can choose from 122 well-appointed apartments—91 in assisted living and 31 in memory care—with around-the-clock staff to provide assistance and care services.
Aegis Living has taken a fresh approach by designing a community inspired by biophilia—people's innate tendency to seek connections with nature. Research has proven that strengthening the relationship between humans and nature can help reduce stress, improve cognitive function, and enhance mood—all beneficial for seniors.
Living plant walls, water features, and lush greenery fill every floor of the community, along with design elements that mimic nature's patterns, colors, and sounds. A centrally located 3,000 square-foot open-air courtyard filters sunlight into the heart of the home.
The community feels like an oasis in the city, from the welcoming conservatory lobby filled with plants and a waterfall, to the top floor Sky Lounge overlooking the city of Bellevue.
On the designated memory care floor, experiential design helps ignite fond memories and foster connection among residents.
The outdoor courtyard features a waterfront scene with an actual full-size 1948 seaplane as a whimsical reminder of a familiar Pacific Northwest sight.
Inside, an interactive campsite allows residents with a love of the great outdoors to "glamp" in a fully equipped canvas tent to rekindle the memories of a favorite vacation.
Aegis Living Bellevue Overlake is a center for wellness for aging seniors to nourish their mental and emotional well-being. Residents can enjoy various activities that encourage a mind and body connection, such as tai chi, yoga, geriatric massage, and meditation.
The community also features a heated saltwater pool, a juice bar, and a wellness center with a yoga studio and massage room. Residents can select from four dining options, including a restaurant-style dining room, pub, and a wine cave.
There are plenty of entertainment options, including a movie theater, salon and barbershop, sports lounge, and a full calendar of daily activities and excursions.
The community's April opening arrives along with the much-anticipated COVID-19 vaccine—a welcome relief for many seniors who have been especially cautious over the past year due to the pandemic. All Aegis Living communities have received the vaccine, administered to staff and residents.
The building's design incorporates added layers of protection, including ample space, both inside and outdoors, for social distancing and the latest advances for infection control, including an air purification system to prevent the spread of COVID-19 and promote an overall healthier air quality.
To schedule a private onsite tour or virtual tour with an Aegis Living representative, call 425.654.8353, or email [email protected] For more information, visit www.aegisliving.com.