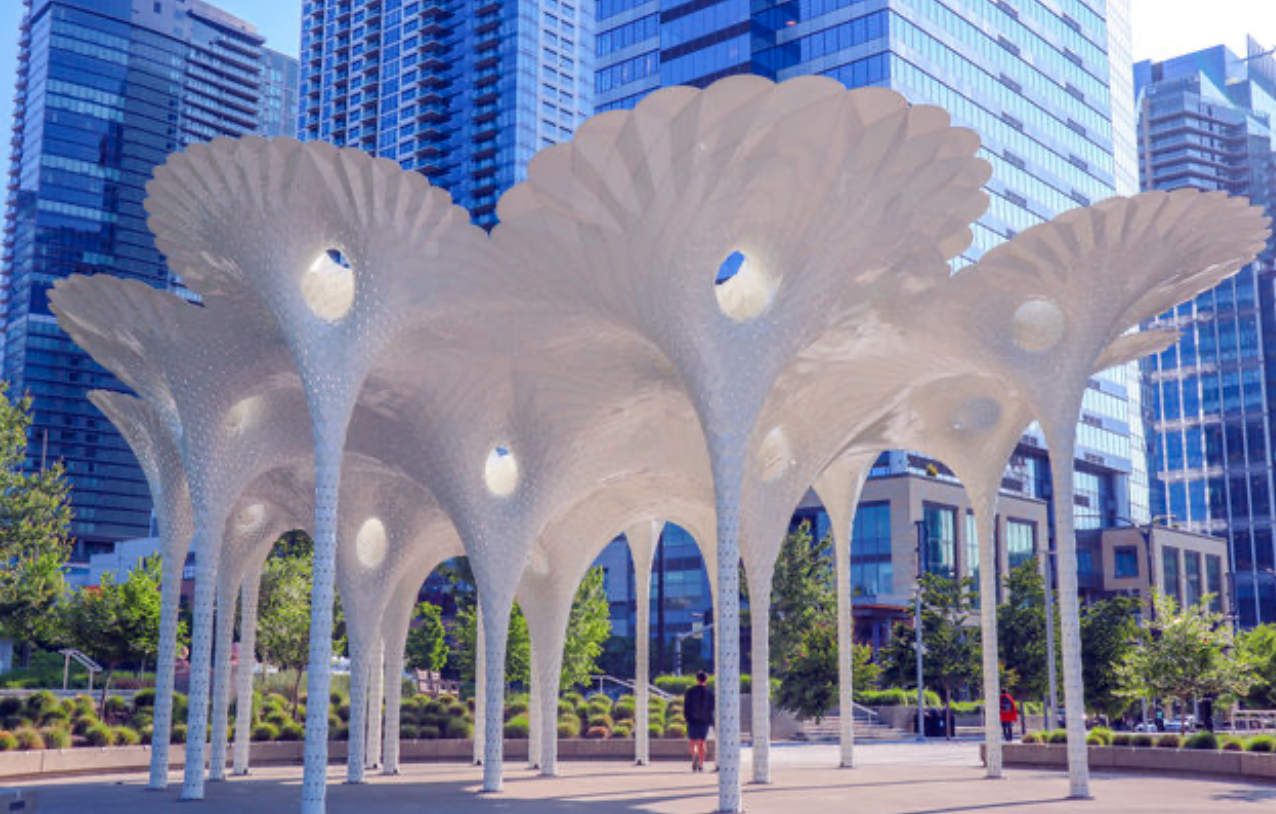 Bellevue is preparing to unveil its latest masterpiece: Piloti, a striking public art installation that will grace the northeast gateway of Downtown Park. This awe-inspiring structure, created by the acclaimed New York art-architecture studio THEVERYMANY, will captivate visitors with its fluted columns and a perforated canopy, creating an atmosphere perfect for a lively celebration.
On Saturday, June 24, from 11:30 a.m. to 3 p.m., Bellevue residents and visitors alike are invited to immerse themselves in the festivities surrounding the installation of Piloti. The celebration promises to be a feast for the senses, featuring activities for all ages, delectable food, and exhilarating entertainment that will make the event a memorable experience for everyone.
Piloti, the largest free-standing art piece ever commissioned by the city, stands as a testament to Bellevue's commitment to fostering a vibrant arts scene. Consisting of more than 6,000 white aluminum panels intricately riveted together, this architectural marvel forms columns over 20 feet high, inviting people to wander among them and explore their unique design.
Located at the corner of Northeast Fourth Street and Bellevue Way, the gateway plaza where Piloti resides, holds great significance as a key component of the Grand Connection. This ambitious project aims to create a seamless walking and rolling corridor stretching from Meydenbauer Bay Park through downtown to Wilburton, east of Interstate 405. The plaza itself boasts additional features, including a captivating waterfall adorned with color-changing lighting, inviting seating areas, and accessible ramps that grant easy entry to Downtown Park.
The event will include a ribbon-cutting ceremony with the participation of the City Council and esteemed representatives from the Parks & Community Services and Community Development departments. Their presence serves as a testament to the significance of this landmark installation and the city's commitment to promoting public art as an integral part of urban development.
For those interested in attending, the event's official website, Piloti, offers comprehensive information on the day's schedule of activities and attractions. From engaging performances by dancers and mesmerizing beats spun by talented DJs to mouthwatering treats such as donuts, the celebration promises an experience that will appeal to every attendee.