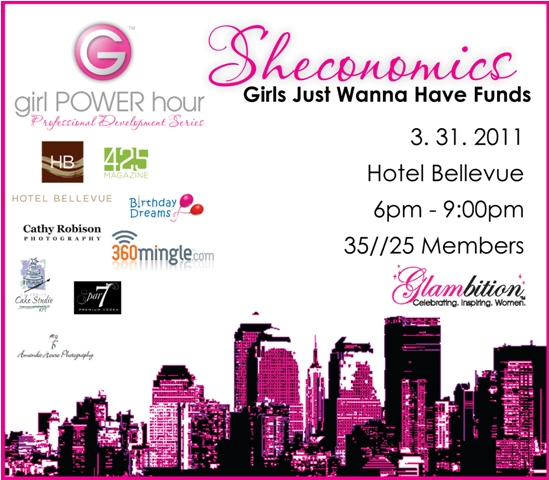 You've heard of economics, but what about Sheconomics? The Girl Power Hour Professional Development Series is presenting Sheconomics: Girls Just Wanna Have Funds, a business and networking event on Thursday, March 31st from 6pm to 9pm at Hotel Bellevue. There will be a panelist comprised of experts ranging in topics from marketing to personal finance, along with a chance for guests to mingle and make business connections with fellow professionals. The event is also the opportunity to highlight Birthday Dreams, a local non-profit organization that provides birthday celebrations for underprivileged children. Organizers of the event are encouraging guests to bring party supplies to donate, such as games, balloons, toys, decorations, etc.
Tickets for the event are $35, or $25 if you are a Girl Power Hour member. Along with networking opportunities, the event will offer swag bags, photo opportunities, cocktails, appetizers, and the first 50 women through the door will receive a digital business card called a Mingle Stick.
Go to the Girl Power Hour website at girlpowerhour.com for tickets.