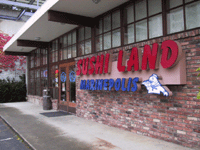 King County health inspectors closed Marinepolis Sushi Land for inspections on Aug. 11 after 2 people fell ill with salmonella, according to Seattle and King County Public Health.
Both patients were not hospitalized and have recovered from their illnesses, according to the health department. Symptoms typically develop within 72 hours of consuming infected food, and include diarrhea, stomach cramps, headache, fever, vomiting, and dehydration.
The downtown Bellevue restaurant, which offers traditional sushi served on a conveyor belt, had several health code violations in October and November, according to public records.
Marinepolis Sushi Land is part of a chain with its headquarters in Oregon.
—
UPDATE: Marinepolis has been reopened