It has been quite a journey to get agreement on the details for light rail in Bellevue. On Monday night the city council voted 6-0 in favor of cost-reducing changes to the light rail project that could save Bellevue taxpayers up to $35 million.
"Tonight we reached a major milestone for the city. It was a hard fought effort, but the end result is more certainty for our city residents, businesses and neighborhoods," said Mayor Conrad Lee. "Throughout this process our number one priority has been to protect our neighborhoods – and we accomplished that tonight."
The City of Bellevue has worked with Sound Transit since 2012 on ways to lower the cost of the project. Sound Transit's Board of Directors is scheduled to make a decision on the cost savings options at its Thursday meeting this week. If Sound Transit agrees with the City of Bellevue's ruling, the two groups will develop amendments to the existing Umbrella MOU and Transit Way Agreements for final council action.
Here are some of the details of the cost savings as stated by a City of Bellevue press release:
Bellevue Way: The council maintained the MOU option of placing light rail in a trench along Bellevue Way Southeast, in front of the historic Winters House. 
112th Avenue Southeast: The council approved replacing an elevated light rail "flyover" of 112th Avenue, near Southeast 15th Street, which was in the MOU, with a "road over rails" option. It features an overpass above 112th Avenue, with the light rail line crossing under the overpass at ground level. 
In addition to the flyover, the council approved replacing a city-requested trench along the west side of 112th Avenue with a street-level alignment that crosses Southeast Fourth Street. 
This option would allow for emergency vehicle access only into the Surrey Downs neighborhood on Southeast Fourth Street, and calls for developing an alternative access into the Surrey Downs neighborhood from 112th Avenue though Bellefield Residential Park. Cost-savings estimate: $2-4 million. 
Downtown station: The council approved replacing a downtown tunnel station proposed in the MOU with an at-grade station on Northeast Sixth Street. Cost-savings estimate: $19-33 million.
The East Link is scheduled to begin construction in 2015 and start service in 2023. The project will run from Seattle, through Bellevue, and to Overlake Transit Center in Redmond.
For more details of the East Link visit the Sound Transit website.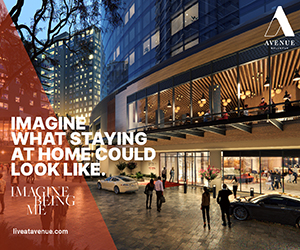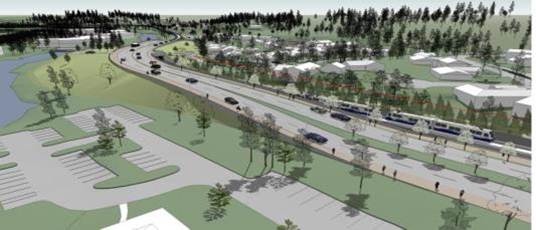 SE 15th Road over Rail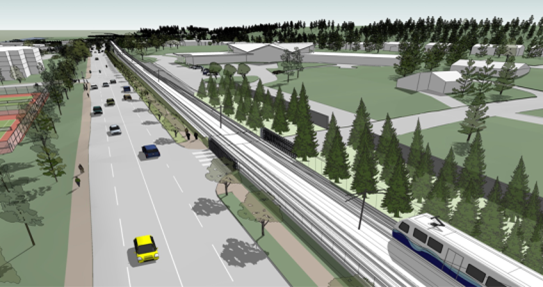 SE 4th – Emergency access only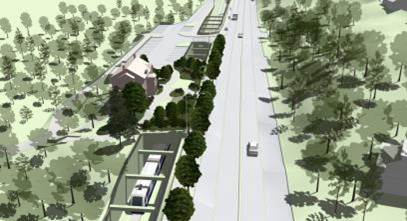 Bellevue Way Retained Cut (MOU)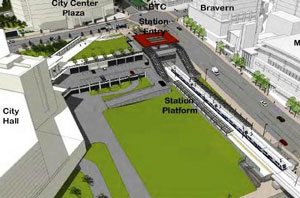 Downtown tunnel station with an at-grade station on NE 6th St