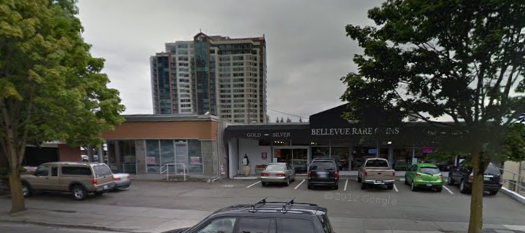 The building that houses Bellevue Rare Coins on NE 4th Street in downtown Bellevue recently sold for more than $5 million to Can105 Development Limited Liability Co.
The price — $808 per square foot — topped the previous Bellevue land sale record by 51 percent, according to the Puget Sound Business Journal.
Zoning allows for the development of a high-rise residential or office tower on the 6,250-square-foot lot. The buyer, Paul Chang, also owns a quarter acre to the south of Bellevue Rare Coins, according to the PSBJ.
Bellevue's previous land sale record took place in June with the sale of a high-rise development site on 108th Avenue NE, where Las Margaritas Mexican restaurant operated.