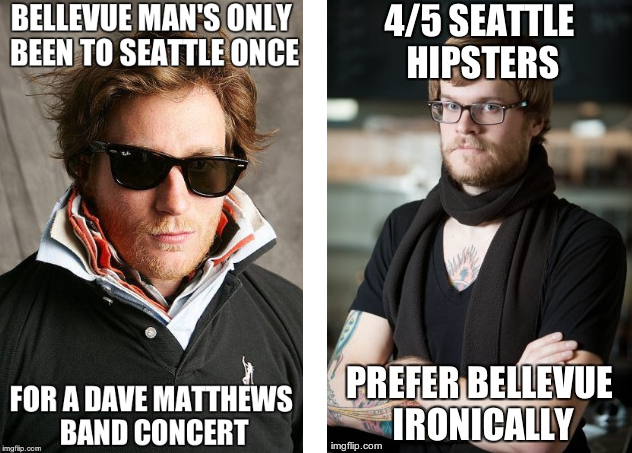 Image Credit: Estately.com
A recent blog post on Estately, a real estate website, compares what city is better a place to live in between Bellevue and Seattle. The article compares several characteristics such as: wealth, diversity, sex offenders, brunch, and a breadth of other topics.
Although entertaining, the article isn't much of a true and fair comparison. Here are a few holes within the article:
Population isn't accounted for – Seattle is a much bigger city with a much larger population (Seattle's population 634K vs. Bellevue's population 126K). Population skews many of the comparisons portrayed in the article. For example the first comparison is the number of sex offenders Seattle: 842 vs. Bellevue: 16. Although the ratio in Bellevue vs. Seattle is much lower this comparison of total numbers by itself paints an entirely inaccurate picture for both cities.
Hater nicknames – One of the comparisons is for both cities' nicknames. Most all of these nicknames that are listed for Bellevue are negative: BlahVue, City in a Park, Bland-View, Mall City, The 425, Gateway to Issaquah, Lil' B, East Mercer Island, Mistake by the Lake, The Belle, Seattle's Shadow, Yuppieville, and KhakiLand. As mentioned many of these are negative, but more importantly has anybody heard of half of them? Although creative, they seem made-up. How about some credit for being a bunch of techie creative geeks? Do you have ideas for more positive nicknames for Bellevue? Sound off within the comments.
Bellevue Square – How is it possible this article completely fails to mention Bellevue Square, one of the best malls in the United States when comparing shopping in the two cities?
Bellevue based Companies – The comparison for companies in Bellevue misses mentioning the presence of Microsoft, Eddie Bauer, Bungie, Drugstore.com, etc.?
Free Parking in Bellevue – The article states that the average parking cost in Bellevue is $7.30 for 2-hours (still less than Seattle at$7.50 for 2-hours). What's not mentioned is that most major destinations in Bellevue have free parking (The Bravern, Bellevue Square, Lincoln Square, etc.). This is still one of Bellevue's most underrated features.
There are several other interesting facts and comparisons listed in the article (not all bad). A few of the interesting comparisons to note are: Which Seahawks players have been arrested in Bellevue; average home prices, name origins, & much more.
Have some spare time to kill? Check out the article on Estately.
Oh…and for the record if you're curious we recommend living in Bellevue. Just thought we'd clear that up.