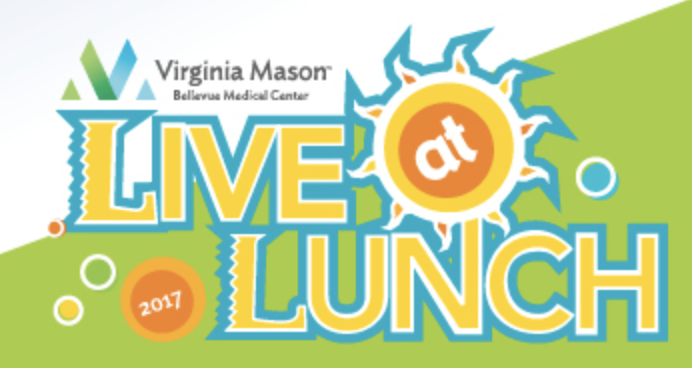 Earlier this week the Bellevue Downtown Association kicked off a 10-week run of free live concerts thought the summer. Live music will take place in downtown Bellevue on Tuesday, Wednesday and Thursday from noon to 1:30 PM. The live music will be made up of live local bands.
"Summers in Downtown Bellevue are the perfect time to relax with a friend and listen to live music," says BDA President Patrick Bannon. "From reggae to blues and country, to disco-soul; there is something for everyone."
The event has historically hosted an annual Rockaraoke contest where contestants can sing with a live band. This year will be no different, Rockaraoke will take place on August 17th at Bellevue Connection (the old Bellevue Galleria).  If you're interested in compete email tyler@bellevuedowntown.org.
Below is a listing of the Live at Lunch Schedule:
2017 Live at Lunch Schedule
| | | | | |
| --- | --- | --- | --- | --- |
| Date | Day | Band | Genre | Location |
| Jul. 11 | Tue | Champagne Sunday | Rock/Raucous Folk | City Center Plaza |
| Jul. 12 | Wed | Brenda Xu | Singer/Songwriter | Kaiser Permanente Bellevue |
| Jul. 13 | Thu | Smokey Brights | Rock, R&B & Pop | Bellevue Connection |
| Jul. 18 | Tue | The W Lovers | Alt-Country | City Center Plaza |
| Jul. 19 | Wed | Blake Noble | Percussive Guitar & Australian Didgeridoo | Bellevue Library |
| Jul. 20 | Thu | Acapulco Gold | Funk/Soul | Bellevue Connection |
| Jul. 25 | Tue | Tomo Nakayama | NW Indie Folk Singer | Symetra |
| Jul. 26 | Wed | Bradford Loomis | Roots Americana | Bellevue Corporate Plaza |
| Jul. 27 | Thu | Buckets of Rain | Rock & Roll | Bellevue Connection |
| Aug. 1 | Tue | Fysah | Soul Singer/Songwriter & Guitarist | Bellevue Square Fountain Court |
| Aug. 2 | Wed | Adrian Xavier Band | World Reggae | Tower 333 |
| Aug. 3 | Thu | Woodland West | Bluegrass / Americana / Zydeco | Bellevue Connection |
| Aug. 8 | Tue | Olivia De La Cruz | Singer/Songwriter | Bellevue Square Fountain Court |
| Aug. 9 | Wed | Soyaya | West African Music | City Center Plaza |
| Aug. 10 | Thu | The Seattle Women's Steel Pan Project | Caribbean Steel Drum Band | Bellevue Connection |
| Aug. 15 | Tue | Tekla Waterfield | Folk Country Blues Rock | Bellevue Square Fountain Court |
| Aug. 16 | Wed | Polly O'Keary & The Rhythm Method | Blues | The Summit |
| Aug. 17 | Thu | Rockaraoke | Live Band Karaoke | Bellevue Connection |
| Aug. 22 | Tue | Maddy Smith | Singer/Songwriter | Bellevue Square Fountain Court |
| Aug. 23 | Wed | Whitney Lyman | Indie Rock/Dream Pop | City Center Plaza |
| Aug 24 | Thu | Radio Raheem | Disco-Soul | Bellevue Connection |
| Aug. 29 | Tue | Naomi Wachira | Afro Folk Singer/Songwriter | Bellevue Square Fountain Court |
| Aug. 30 | Wed | SISTERS | Electro-Soul Duo | Bellefield Office Park |
| Aug. 31 | Thu | Kim Archer Band | Old School Soul, Powerful Funk & Sultry Blues | Bellevue Connection |
| Sep. 5 | Tue | Larry Murante | Acoustic Songcraft | City Center Plaza |
| Sep. 6 | Wed | New Age Flamenco | Gypsy Soul Project | Skyline Tower |
| Sep. 7 | Thu | Paula Boggs Band | World/Rock/Americana | Bellevue Connection |
| Sep. 12 | Tue | The Winterlings | Indie Folk/Americana | Key Center |
| Sep. 13 | Wed | Champagne Honeybee | Jazz, Blues & Ukulele Soul | City Center Plaza |
| Sep. 14 | Thu | Massy Ferguson | Rock Americana | Bellevue Connection |