Food Drive with appearance by Santa
12/9/17, 9:30 AM – 12:00 PM
Bellevue Nursery (842 104th Ave SE, Bellevue, WA)
Stop by and drop off non-perishable food items at the Urban Bellevue Living food drive this Saturday benefiting the Boys & Girls Clubs of Bellevue. This is the perfect opportunity to support a great cause, meet your Urban Bellevue Living team, and to see Santa!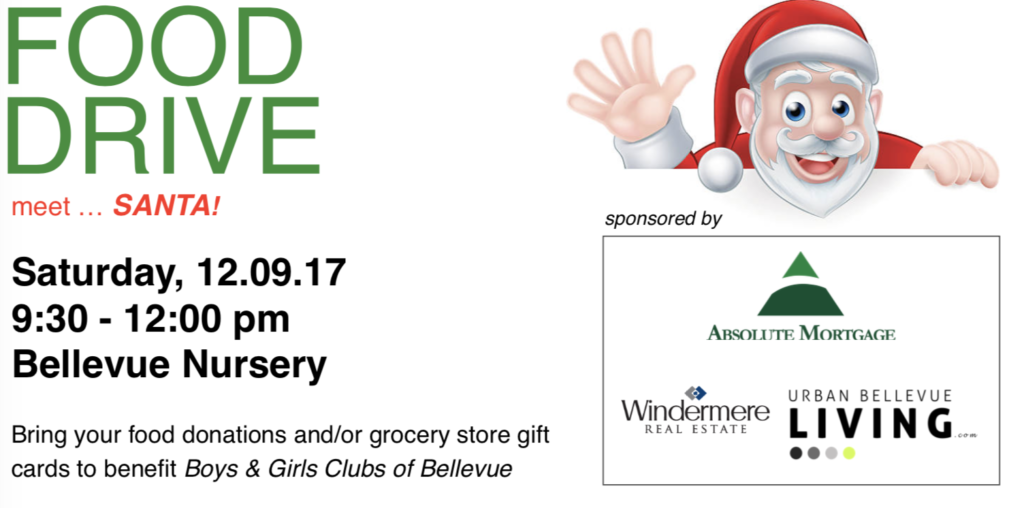 2018 Market Projection Event with Chief Economist, Matthew Gardner
2/7/18, 6:00 – 8:00 PM
Bellevue Towers Great Room (500 106th Ave NE, Bellevue)
Curious about the local housing market and what to expect for the year 2018? Is now the right time to sell or buy? To further educate and to answer any questions you may have about the local housing market, your Urban Bellevue Living team invites you to stop by for an evening of beverages and bites and to listen to celebrity guest, Matthew Gardner speak about the local real estate market forecast. Stay tuned for more details.
Check out www.UrbanBellevueLiving.com for event updates.