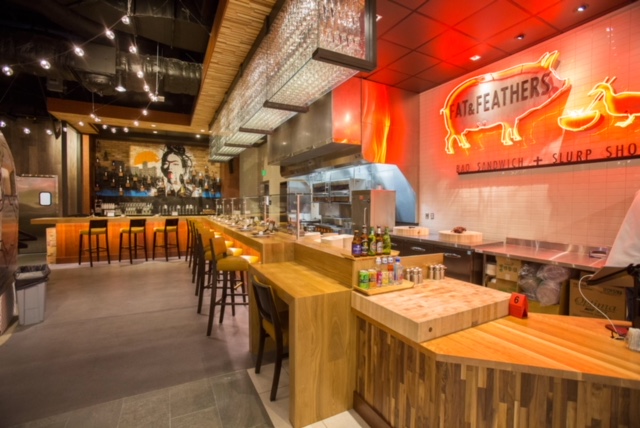 Fat & Feathers is one of seven concepts that opened as a part of the Lincoln South Food Hall in January 2018. This new-style bao sandwiches, ramen and saimin slurp shop is open daily for lunch, dinner and late night.
Fat & Feathers has a different feel from the other 6 restaurants in Lincoln South Food Hall, because a bar-style concept is used for seating. According to Jeffrey Frederick, concept creator and partner in the LSFH project, "We felt that one of the most exciting parts of the ramen experience was watching the ramen chefs personally crafting each bowl, with the techniques specific to a good ramen chef. By having bar-style seating, each guest has their own ticket to the show."
Their ramen menu consists of 6 different options, including; pork belly, mushroom and mochiko chicken. Extras like soft seaweed, black market kimchi, and five spice roast duck can be added for $1-$3. There are 4 broths and 2 types of noodles to choose from as well. The Bao portion of their menu offers 6 different options, like honey walnut prawn, pork belly and portabello mushrooms, while the Fat & Feather Butcher Block includes 3 items; five spice roast duck, roast pork belly and salmon pastrami.
Please visit their website for more information on their menu, as well as restaurant hours.