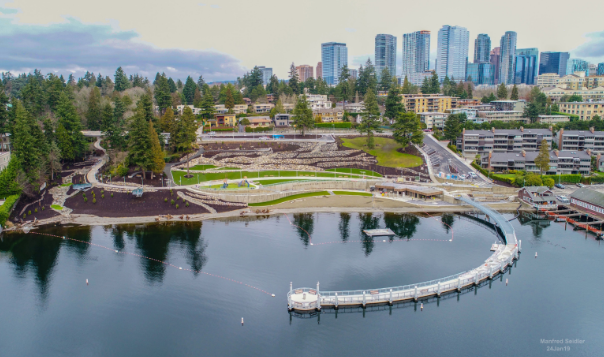 Meydenbauer Bay Park is planned to open on March 16th with a ribbon-cutting ceremony at 11 a.m. that includes activities and food.  There will be a free shuttle for those that park at Bellevue High School to Meydenbauer Bay Park between 10:30 a.m. to 2:30 p.m.
Glen Kost, Planning Manager for Parks and Community Services, describes in an interview what Bellevue can expect from the park (see video below). Planning for the park began in 2007 with the development of the masterplan. Once it was adopted in 2010, design and permitting began. They broke ground in 2017 and three and a half years later, Meydenbauer will be ready to open in March.
Meydenbauer Bay Park will be greatly expanded, measuring in at 10 acres along the shoreline once complete. When the project is all finished, there will be a 400 foot Pedestrian waterwalk, access to boat loading, canoes, kayaks, and paddle boards that can be launched at the beach, and an abundance of seating for the public. There will also be a beach house with men's and women's restrooms, changing areas, showers, lifeguard station, children's playground equipment, a swimming beach with swimming ropes and platform, and more.
Meydenbauer Bay Park
9899 Lake Washington Blvd NE