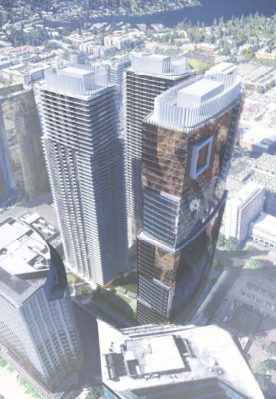 Onni Group, a Canadian developer, has released additional renderings and plans for its project in downtown Bellevue on 106th Ave NE where Barnes & Noble and Doxa Church currently sit.
The plans, according to City of Bellevue records, include three 600-foot towers, including two that are residential with a hotel component and the other as a commercial office.  The project is planned as 179,914 square feet in total with 1,289 residences, 317 hotel suites, and 896,000 square feet of office space.  Amenities for the project include two swimming pools, a daycare, and guest suites. Additionally, a food court is planned in association with the office tower.
According to the City of Bellevue SEPA Environmental Checklist, the project could have upwards of 4,000 workers within the office, hotel and retail spaces.
In September, it was announced that Onni Group was under contract to purchase the land at this site. The future address for the project will be 680 106th Ave NE.