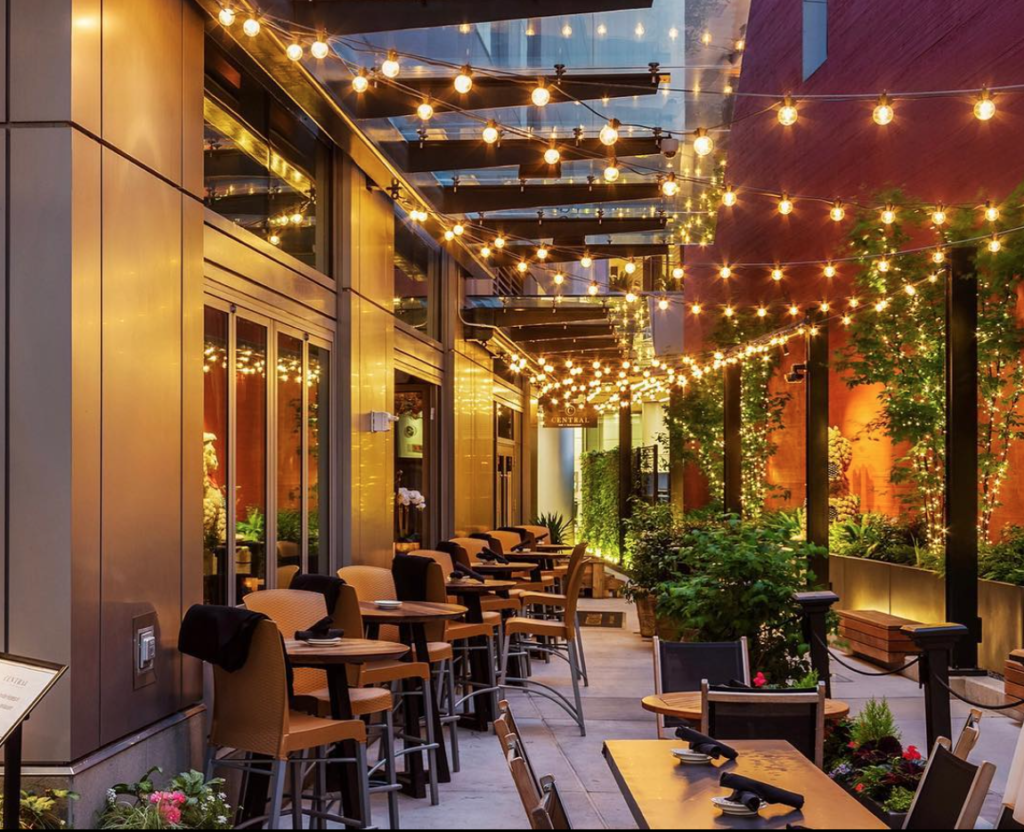 How are you spending your summer days and nights? Check out the "go to" social spot for the season by celebrating your Summer @ The Collection with live entertainment, delectable eats, craft cocktails and special offerings. With numerous options like Trivia Night, Sunday Funday, Taco Tuesday and happy hour at over 20 restaurants, family, friends and business acquaintances alike can find the perfect setting to meet up, mingle and enjoy this time of year.
Bask in the summer sunshine while enjoying Patio Dining at The Bellevue Collection with 12 different outdoor options to help you decide where to eat and sip on delicious food and drinks. If you're looking for well-priced, delectable eats, wine, beer and craft cocktails, take advantage of the 26 restaurants that offer daily Happy Hour. Craving a taco? In the month of July, try new taco concepts every Sunday and Monday for $5 at The Lakehouse and Civility and Unrest or street tacos like adobo chicken and pork and pineapple at Barrio Luchador for Taco Tuesdays. For those that have a hankering for pizza, Crosto E Vino, the Italian, fast-casual restaurant located at Lincoln Square South Food Hall, is serving up Pizza by the Slice through the end of July. Nosh on two slices for $8.
Henry's Tavern, the brewery that is known for its extensive beer list, is hosting a "Sunday Funday" through the month of July, which features all day happy hour with offerings like chardonnay, Coors Light, raspberry margarita, cheeseburger and macaroni and cheese. Known for its award-winning clam chowder and sustainable ingredients, Duke's Seafood and Chowder is offering half-off wine bottles all day, every Monday through the end of this month. Are you a champagne lover? The Lakehouse, run by the James Beard Award-winning Chef Jason Wilson, is serving up a Laurent-Perrier Champagne Tasting Dinner with multiple courses prepared by Executive Chef, Joel Handshuh, paired with tastes of Laurent-Perrier Champagne on July 19. The Northwest farmhouse-feel restaurant is also offering Half Off EFESTE Wine paired with a charcuterie board. Enjoy the fun, casual atmosphere at Earl's Kitchen + Bar when you take advantage of their month-long July Drink Feature, which includes special on Collins Cocktails at just $5.
Sit back, relax and listen to live music every Thursday until the end of August @ The Collection's #TNT: Thursday Night Thing, which takes place at Bellevue Square's Fountain Court. Featured music includes The Paperboys, The ABBAgraphs and more. Listen to local artists perform every Friday night until August 16 at downtown Bellevue's communal experience, Lincoln South Food Hall, for LS Live. Enjoy special eats and drinks like $5 hand-tossed pizzas, street tacos and beer on tap while there. Situated on the first floor of The Westin Bellevue, Cypress Lounge and Wine Bar is featuring live jazz music every Friday night through the end of July with singers like Tessa Rose and Jonah Sol. If Trivia is your thing, head over to Burger Brawler every Thursday evening in July to test your knowledge at Trivia Night.
To learn more about the many summer promotions @ The Collection, visit their website.