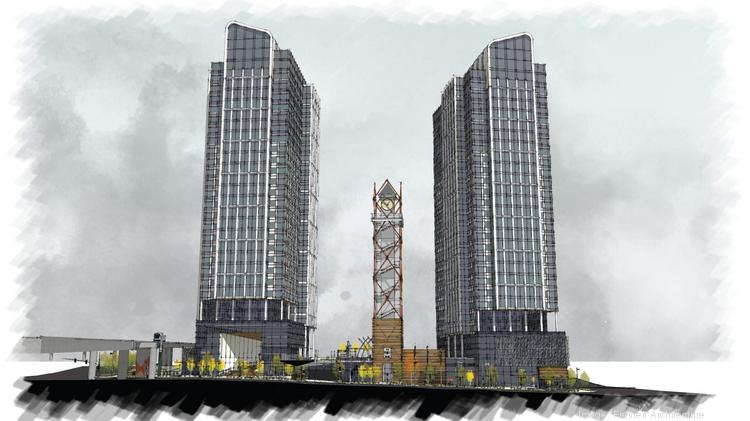 Legacy Companies of Bellevue is planning two high-rise office towers at 530 112th Avenue Northeast, as first reported by the Daily Journal of Commerce. The building is kitty corner from Meydenbauer Center and next to 405. Legacy Cos consists of Legacy Capital and Legacy Commercial. Legacy Commercial is the property management part of the office that includes new acquisitions, future planning and more. The towers will be over 1.2 million square feet of space that will incorporate office, retail and restaurants.
The name of the project is "Bellevue Straits". Freheit Architecture came up with the building design that has yet to enter design review. According to DJC, it was first presented to the City of Bellevue last fall. Freheit Architecture also designed 13 Coins Restaurant in Seattle, 1200 Bellevue Way Townhomes and Whole Foods Market in University Place, among many others.
As reported by Puget Sound Business Journal, "Bellevue Straits" would be just over 400 feet tall in an "open, park-like atmosphere". The mixed-use, two tower project is planned to tie into the city's Grand Connection trail.
Legacy Companies of Bellevue also owns Design Market, the strip mall that includes Relax the Back and All the Best Pet Care, as well as other properties in Bellevue, Redmond, Portland, Colorado, Canada and elsewhere.