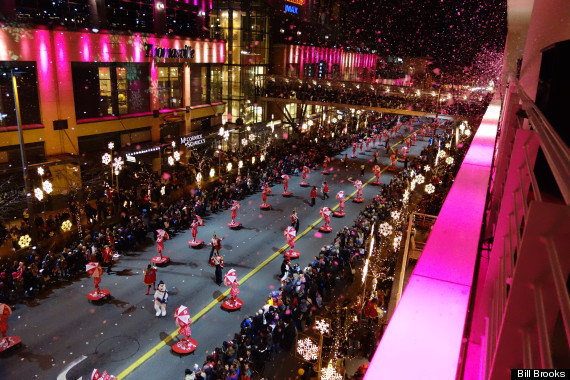 Tis definitely the season in downtown Bellevue. Of course, all who live here know that Bellevue has been doing more than just hanging stockings for the 10 years. Today, the Huffington Post features downtown Bellevue in a feature entitled, "America's Quirkiest Holiday Extravaganzas We Love To Love."
The Huffington Post calls on its readers to "visit the most festive town in America." Locals already recognize Snowflake Lane for its nightly holiday performances through Christmas Day featuring snow effects, toy soldiers and a light show.
We urge you to attend the 10th Anniversary of Snowflake Lane at The Bellevue Collection, certainly a magical memory for the entire family. Here, you'll see live toy soldier drummers, experience harmonious music, enhanced by snow characters, with seasonal lights, completed by falling snow.
Join the fun and let the spirit of the season move you. You will find stages located in front of Bellevue Place and outside the Palomino restaurant. At Little Princess Court Meet and Greet area, between The Cheesecake Factory and Blue C. Sushi, you can even meet the princesses and make your own memories with them in your pictures.
SNOWFLAKE LANE At The Bellevue Collection
November 28 – December 24
Nightly at 7 p.m.