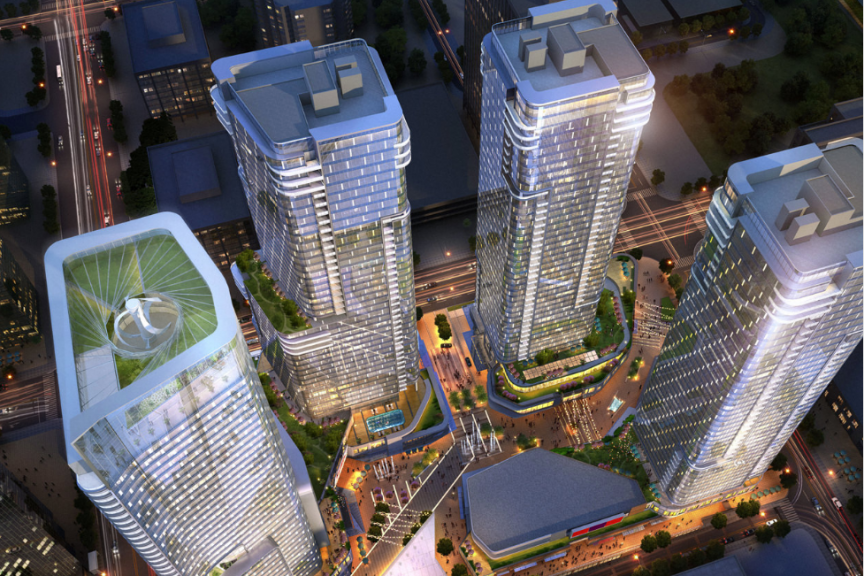 Elev8, the largest high-rise project in Bellevue to-date, was recently purchased by Stanford Hotels for $128 million from the original developer, Plus Investment USA. Plus Investment USA purchased the site in 2014 and 2015 for $75.9 million.
Located at 752 108th Avenue Northeast, the Elev8 project is slated to include 147,000 square feet of shopping, a 20,000 square foot grocery store, 1,375 housing units, and 456,000 square feet of office space. With Bellevue's new zoning rules allowing towers to be up to 600 feet tall, Stanford Hotels is exploring their options and may increase the originally proposed height of the 300-foot office tower and 450-foot residential tower.
According to city documents, Phase 1 would include two residential towers, six levels of underground parking, and one low-rise building, located on Northeast 8th Street and 110th Avenue Northeast.
Phase 2 is being proposed as having one office tower, one residential tower, and eight levels of underground parking. This would be built on the site that was First Congregational Church and is currently two office buildings and Yuen Lui Photography.
Stanford Hotels has not yet suggested a date as to when the project will begin.