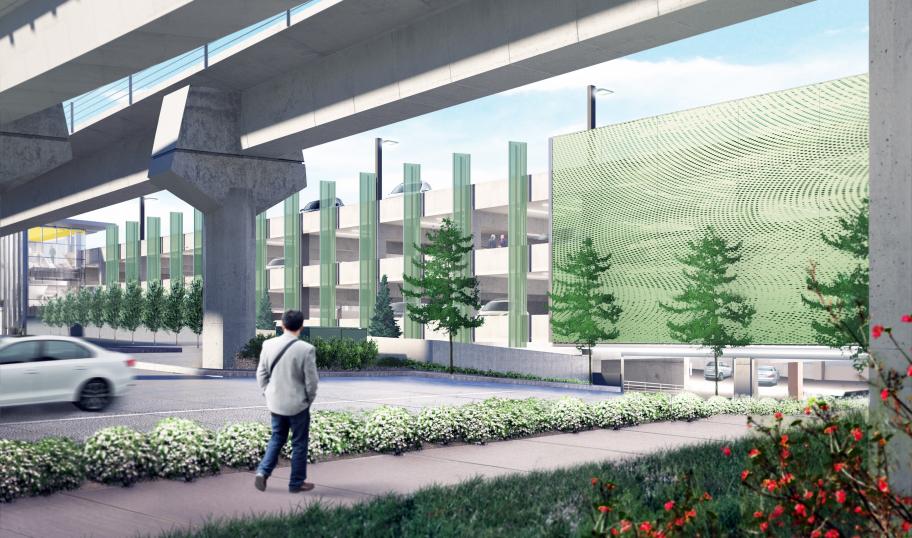 The Park-and-Ride garage at South Bellevue is planned to open in the Fall of 2021 (in September), according to Sound Transit. In Partnership with the City of Bellevue, the on-time construction has led to the opening of the garage nearly two years prior to East Link for light rail begins operation.
King County Metro and ST Express route 550 riders who had no option but to use different parking spaces when East Link construction began in 2017 can finally return to the new garage at the same park-and-ride location.
Sound Transit Board member, Claudia Balducci, said "South Bellevue Park and Ride's early opening represents one of the very first steps in this major system expansion and demonstrates that, together, we will accomplish big things to make our region more livable and economically competitive via great transit."
Seattle-based artist Katy Stone's artwork also features on the garage. Her figure for the roofline of the station's garage is suggestive of cattails blowing in the wind while her designs for the garage screening suggest a rippling effect or wind blowing. The Garage and station designs are the product of HJH, a joint venture consisting of HNTB, Jacobs and Mott McDonald.
Riders will be able to travel traffic-free between South Bellevue and the downtown Seattle International District within 14 minutes, SeaTac Airport within 48 minutes once East Link opens.