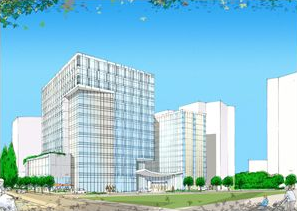 The proposed 15-story mixed-use project at NE 8th St. and 106th Ave. NE, which is planned to be developed by the Touchstone Corporation, has recently added a visual rending of what the building is planned to look like on their website.
The development would be located on the Washington Square block. As previously reported, the mix-used project would consist of 250 hotel rooms, 20,000 sq. ft. of retail space, and 600 underground parking spots.
The image isn't very big and doesn't present much detail, but it still gives a good idea of what it would look like. Do you think it adds to the skyline or leaves a lot to be desired? Sound off in the comments.